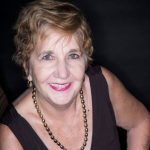 By Kathy Condon 
Freelance Travel Writer
Let's say I am delighted I was hosted. I am not sure I would have gone to this area under other circumstances, which has now captured my heart and calls me back again. The communities I visited included: Bend, Tumalo, and Redmond.
If you are an outdoor enthusiast, here are five Oregon state parks located within driving distance of the city of Bend, Oregon:
Smith Park State Park (30 miles from Bend) is 650 acres at the 3,000 ft level.
The Cove Palisades State Park (1 hour from Bend) Swimming and Kayaking in Canyons
Prineville Reservoir State Park (1 hour from Bend) Fabulous place for Stargazing
Cascadia State Park (1.5 hours from Bend) Rain Forest Terra, swimming and fishing
Collier Memorial State Park (1 hr. and 45 minutes from Bend) Outdoor Museum with logging exhibits and a repositioned 1880 pioneer village
High Desert Museum Paths Lead to More Learning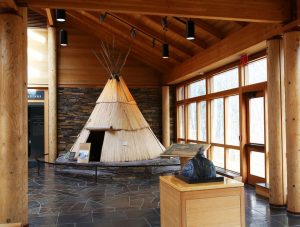 Once you park the car, the fresh pine-scented air takes over your senses. If you have a dog, you will appreciate that they have dog kennels nearby that are attended to and provide water for your four-legged family member.  Once you pay your admission, you enter an expansive room with corridors leading off it. One of my favorites was the one where the "Creative of Spirit" exhibit is located. Here six native artists illustrate their craft and demonstrate how this beautiful art is integrated into the native traditions. When you visit, be sure to check out this exhibit area and meet the resident gray fox, who is happy to call the museum his home after he was injured and couldn't be returned to the forest. Then head outside and follow the well-defined path on the 135 acres through the forest. One of the oldest exhibits with otters still is a favorite for children and adults. Afterward, pick up the trail, head to a recreated authentic 1908 village, and chat with historical characters.
Old Mill District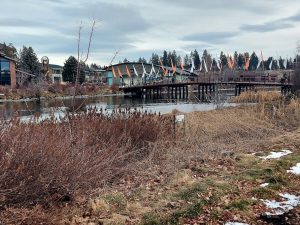 What do you do with 270 acres of abandoned land resulting from closing the lumber mills that flourished in the 1980s? If you are William "Bill" Smith, you make a plan, sell it to investors and create the Old Mill District. Today, the three original smokestacks from the mills symbolize Bill's development, serving as a mecca for shoppers, dining, or a late afternoon stroll along the Deschutes River to watch the sunset.
The Hayden Home Amphitheatre Welcomes International Talent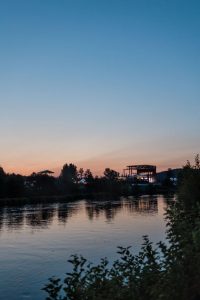 Cross the bridge from the Old Mill District and walk under the arch of the Hayden Home Amphitheatre. Walk up the slight incline, and there a stage welcomes you who showcased the likes of Ringo Star, Chris Stapleton, and James Taylor.
The amphitheater can easily accommodate 8,000 people. Because of the stage configuration on the hill, there is no wrong spot to sit. Bring your chair or blanket and watch a performance under the beautiful star-filled sky.
Check Tower Theatre Schedule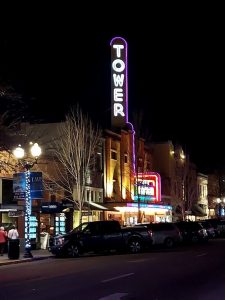 Saved from the wrecking ball, this charming, restored theatre today serves as a gathering place for the entire community in downtown Bend. Its 78 ft. tower standing tall about the street makes it easy to find.
No longer showing movies but repurposed for presenting national performances. However, the theatre is exceptionally proud of its role in educating the public about the theatrical arts and encouraging young people to participate.
I was fortunate to experience the final practice for the "Sound of Music." The primary scene change had an entirely new cast of children to accommodate more of the local children.
Bend Cider in Tumalo Leaving its Mark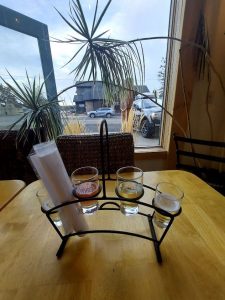 Kelly and Tammy Mark started the recipe for their cider in their kitchen. After much testing and with its botanical origin, I can attest that their Chia Cider had me at the first sip. Now they can't keep up because others love some of their other ciders, and their shipping areas are growing.  One of the first things I noticed was the abstract art of animals on each can. They commissioned their artist friend, Sheila Dunn, to create distinct animal designs for each cider flavor. Sheila said, "Their cans of cider have gotten so well known. I take cans with me each time I have an exhibit of my work. People invariably say, oh wow, you are the artist on the Bend Cider cans."
Warm Springs Museum Helps One Learn About Indigenous People
The Columbia River and the Cascade Mountains in the high desert are home to three tribes: the Wasco, Walla Walla, and the Paiute. The Warm Springs museums proudly display aspects of all three tribes within the confines of their 25,000 sq. ft. museum.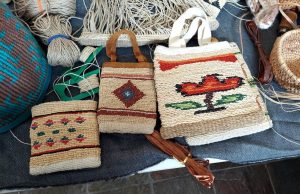 This museum has an extensive collection of baskets. It does an excellent job explaining the various kinds of indigenous baskets and their uses. One of my favorite exhibits was a life-size marriage ceremony scene complete with guests bearing gifts.
Dining in Central Oregon
We all have seen food trucks. But what if you set them up in a half circle, provide lots of outdoor seating, and enhance the atmosphere with a firepit? Then have nearby a structure serving craft beers.
In Tumalo, The Bite was my first experience dining at one of them. I ordered a pizza according to my specifications. I was given an order number which was called when my pizza was done. I returned to the truck, picked it up, and joined friends at a nearby picnic table under the clear desert sky.
In Bend, The Midtown Yacht Club had a similar setup—granted, no water nearby. Here I opted for potato tots. Oh my, they were smothered in a bleu cheese sauce that danced on my taste buds.
People looking for vegan cuisine will not be disappointed in Central Oregon. Wild Rose Northern Thai in Bend serves various vegetarian dishes and outstanding meals with beef, chicken, or fish. You can order family style and share with your dining companions.
You will want to check out the farm-to-table restaurant Terra Kitchen when you are in Redmond. Be sure to order one of their cocktails, which are creative and tasty. I am betting you will want another. After your meal, take time to walk around the space, learn about the company SCP that owns the restaurant and hotel, and learn about their efforts to promote sustainability.
Hotel in Down Bend Oregon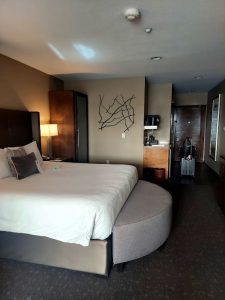 When you arrive in Bend, you will discover it is far from a sleepy town and since you have come to where the action is taking place. The Oxford Hotel Bend is a great place to use as your base to explore the area because it is located in the center of town.
An attentive staff is ready to serve you in any way they can. Upon entering my room, I smiled, for the calming décor and spacious room made it appear to be precisely what I was looking for after traveling all day.
A large shower stall is a perfect place to start or end your day with a hot shower. Soft robes await your decision to wrap yourself in them and luxuriate in this beautiful room. In the morning, curl up and drink your freshly brewed coffee from the French press. Impressive, for there were three different containers with blends to satisfy your desired strength.
There is still so much more to explore in Central Oregon. Museums, ski resorts with their chairlift for outstanding views, the arts and crafts being produced by artists who have decided the clear blue skies and desert climate heighten their creativity. In the music scene, performers such as Joel Chadd perform his original songs in intimate settings. There is so much more outstanding cuisine to try for creative chefs who use farm-to-table produce and keep pushing the boundaries for new dishes.
With all the State parks, the trails, and the flowing rivers at the base of the mountains, the beauty of the area cannot be denied. Do yourself a favor and plan a trip to Central Oregon to renew your senses and see the human creative spirit at work.