Each of Ohio State Park's lodges offer special savings to fit your plans and the season. Taking the whole family for an extended weekend getaway? The kids can earn their stays for the A's they receive on their report cards. Reservations for multiple nights and/or weekdays earns a discount as well as seniors and veterans. Discover the spark between you and your special someone this February and include a delicious dinner for two and in-room enhancements that will reignite your love.
Hueston Woods Lodge
Pictured above, enjoy a night (or more) away in one of our lodge guest rooms or cabins and rediscover your love for each other this February. Explore our in room enhancements and surprise your special someone with the Secret Admirer Package, complete with roses and champagne or the Romance Package waiting in your room upon arrival.
Punderson Manor State Park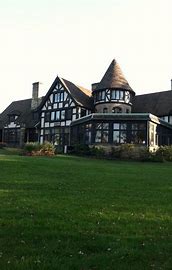 The 150-acre glacial lake at Punderson Manor is an alluring escape. Rent a boat from the on-site marina, take a stroll along the newly extended lakeside boardwalk, or pack a lunch and enjoy an afternoon on the sandy beach. It is easy to find the perfect fishing hole from one of the lake-accessible areas of the shoreline.
Mohican State Park Lodge
Spend a day exploring the winding Mohican River by canoe, kayak, or inner tube from one of the canoe liveries located near Mohican State Park Lodge in the heart of Ohio's canoe capital. Enjoy scheduled free kayaking and canoeing workshops at Pleasant Hill Lake offered by the Muskingum Watershed Conservancy District. Cool off with summer naturalist programs including River Walk: If Rocks Could Talk, where you learn about the history of the area from the rocks that can be found in the river while you stroll with the naturalist. Anglers can fish the Clear Fork River beneath the shade of the forest, which is particularly popular for fly fishing. The lodge has several swimming pools including a children's outdoor wading pool, a competition-size outdoor pool, and a heated indoor pool with sauna.
Deer Creek State Park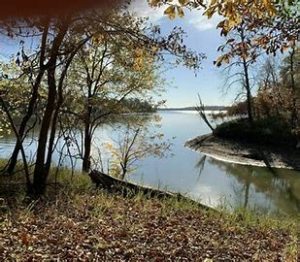 The 1,300-acre Deer Creek Lake is the  star at Deer Creek State Park Lodge. The lake is designated for unlimited horsepower boating. Fishing from shore or by boat in the lake is a favorite pastime at Deer Creek where anglers can target bass, crappie, and saugeye, which are stocked annually.
There is an indoor pool. Make this Valentine's Day an unforgettable day with dinner for two in Rafter's Restaurant where our Chef has prepared a divine menu that will please any palate.
Salt Fork State Park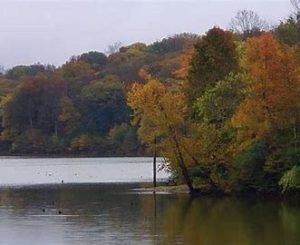 Spoil your sweetheart with a  Getaway. Reservations for dinner are encouraged and can be made by either calling Timbers Restaurant at 1-800-282-7275 or adding the diner to your overnight stay when you book online.  Check out the Valentine's in room enhancements and celebrate your loved one with sweet surprises like champagne and chocolates awaiting in your lodge room.
Maumee Bay State Park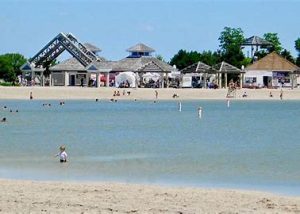 Nothing says summer like the beautiful shores of Lake Erie where you can enjoy the sound of waves crashing on the 1,500-foot stretch of beach or target walleye and yellow perch in the walleye capital of the world. Maumee Bay's 57-acre inland lake is perfect for a day of swimming, windsurfing, fishing, or just lying on the beach. A second on-site lake offers paddleboat and canoe rentals for more secluded time on the water.
The Maumee Bay marina is a favorite among boaters who can stay on one of the 24 overnight slips and seven transient slips for day use. The lodge offers a kid's splash garden for younger children and indoor and outdoor pools.
For more information on Ohio State Park Lodges, visit ohiostateparklodges.com or call 800-282-7275.