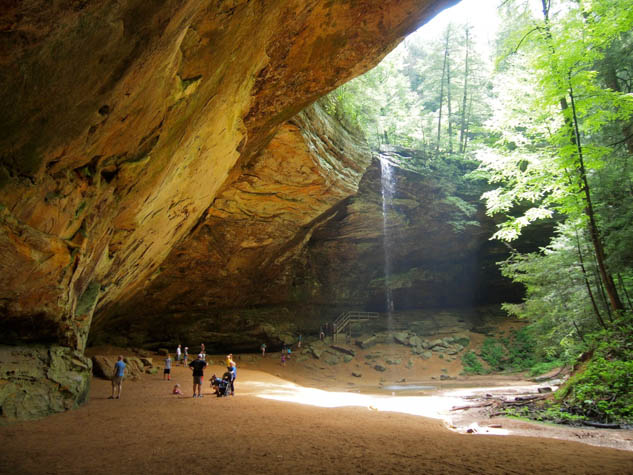 Located in southeastern Ohio, the Hocking Hills State Park has received national and international acclaim as being one of the top parks to visit any time of year. Always open and displaying breathtaking scenery each season, the park features far more than the well-known towering cliffs, caves, and waterfalls. There are deep gorges for hikers and nature lovers to enjoy. There are natural destinations and wildlife to explore. Numerous trails lure hikers to return again and again. Every time you visit Hocking Hille, you are sure to see something different with new photo opportunities everywhere. This summer, travelers are encouraged to immerse themselves in this enticing section of the state by taking part in its many outdoor adventures as well. Summertime overflows with an even larger pool of experiences that can take travelers' adventures to the next level.
1. High Rock Adventures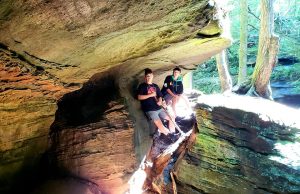 Rappelling, rock challenges, rock climbing and tours like eco, nature therapy and others at High Rock Adventures. Nature's crevasses and tight spaces in Hocking Hills' beautiful sandstone cliffs invite travelers to crawl, squeeze, climb and descend, led by skilled guides. Hint: you will get dirty. Whether beginners to advanced climbers, High Rock Adventures customizes experiences for any group. Part geology, part history lesson, visitors learn all about the area's fascinating natural history on Ecotours where they're immersed in the magnificence of these hills. Three different rappelling options add to the challenge:  flat wall, canyon or a large overhang. Travelers who prefer to keep their feet on the ground will love the rock squeeze and challenge tours.
Another unique and relaxing activity is offered through High Rock Adventures with its Nature Therapy experience. This activity takes visitors on a three-hour tour of the forest that is designed to help you feel more connected with nature. Based on the Japanese practice of Shinrin Yoku, or forest bathing, the experience is said to help manage anxiety, depression and burnout; quiet the mind; and lower blood pressure.
2. Zipline Tours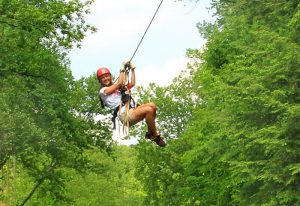 Imagine soaring through the treetops, far above the caves and cliffs. Travelers can experience the closest thing to human-powered flight with Hocking Hills Canopy Tours. Suspended on a network of cables, zipliners get a bird's eye view of the Hocking River, native wildlife, plants, and rocks. Off-road Segway tours, Dragonfly Kids Zip, and a variety of different canopy tours are a great way to see the Hills from an airborne perspective.
Experience the Hocking Hills in a whole new light! The Moonshine Zipline Tour is a unique excursion guided by the full moon. The 2-hour nocturnal tour allows you to take in all the sights and creatures that only make themselves known after dark. You'll enjoy six ziplines and also be supplied with all the lighting equipment you need. Since this tour is so popular, reservations are highly recommended! If you want to make this tour even more fun, be sure to order one of our Inn's brown bag meals to enjoy prior to your trip!
3. Horseback Riding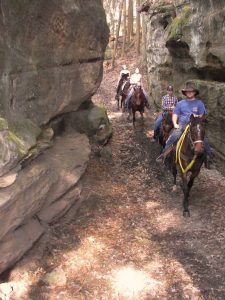 If you aren't really into hiking and still want to witness the scenic beauty, a horseback ride is an alternative solution, Blue Moon Riding Stable provides an adult adventure activity for guided forest trail riding and is open through October.
Ellinger's Farm provides both indoor and outdoor riding areas. This is a great place to spend a rainy afternoon with the kids. They have a mini horse and small kid area indoors with sand to pass the time.
Spotted Horse Ranch expands the riding experience above the normal guided trail rides to holding special camping trips and cowboy suppers.
4 Indulge in Relaxation
Being so widely known for the popular hiking trails and scenery, many have also found the area to be a stress-reducing and simple relaxing destination as well. The new trend is a "Spa Weekend," according to Karen Raymore, Hocking Hills executive director.
"There are actually spas you can go to (like Sauna Pods) and you feel like you are still outdoors," she said. "The enclosed spa spaces have floor-to-ceiling windows that look out over the forests of Hocking Hills. You can view the scenery through huge windows. It's breathtaking," Raymore added.
5. Special events
Travelers can book every element of their summer trip by visiting explorehockinghills.com