Enjoy the Waterfalls
You can take a short hike that will include a destination waterfall or a longer one that could in with exploring a cave. When you go during the rainy season you are sure to reap better views. There are literally hundreds of places you can watch running water falling over the rocks and cliffs. Don't miss out on witnessing Cedar Falls. It is known as the most traditional cascading waterfall. The ½ mile-long trail to its destination leads through the most wilderness-prone area in Hocking Hills. It is remote but still beautiful in its own way. The one-way loop takes a good 30-40 minutes to hike.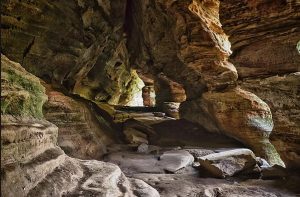 If seeking a full-blown rock cave to actually walk around through instead of walking "under" a recessed cave under eroded sandstone, hike through the woods to Rockhouse. Many years ago, native Indians must have used these rock walls and ceiling for shelter agains storms. Kids love winding around and through the various rock rooms. Through this cave's gothic style windows, visitors will witness a beautiful view of the valley below.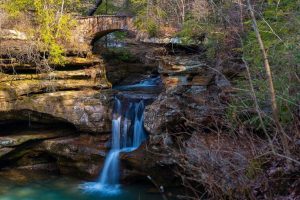 Next, find Conkle's Hollow Rim Trail. It is a steep-walled hike through a gorge. Hints of waterfalls tease you along the way, but at the very end you will find a spectacular 20-foot waterfall. There are several rocky overlooks for picture taking.  This is the best hike for both cliffs and falls.  This loop is about two miles.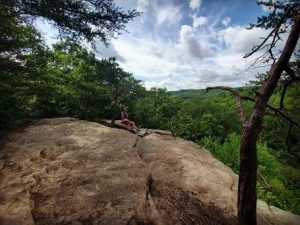 Ohio is home to over 1,800 native species of plants. This includes hundreds of spring wildflowers that bloom from March to May every year. See how many you can find and along your route. To find more information on Ohio's wildflowers visit ohiodnr.gov.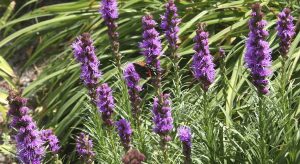 The Hocking Hills Butterfly Trail is a great place to complete (or start) your outdoor journey through the Hocking Hills. The trail consists of 14 locations each featuring a different set of butterfly wings. Visit each location to learn about the featured butterfly, its habitat, and its food source.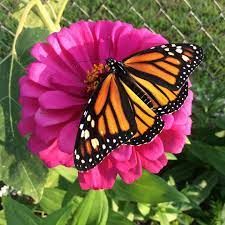 These fantastic fun butterfly wings are a great way to take home memories with the photo opportunity at each stop. Plus a passport and coloring book has been created to augment the experience. Prep for your trail travels by downloading a map and passport to get started or stop by the Regional Welcome Center at 13178 State Route 664 S., Logan, to pick up your map, passport, and special butterfly trail sticker. https://www.explorehockinghills.com/media/jpuprazx/butterfly-brochure-website-pages_v5.pdf