Not one, but three days of fun are scheduled for Dublin St. Patrick's Day fun. On March 11, 6-8 p.m. come and join in the community celebrations of the Dublin Link Pedestrian Bridge and the Grand Opening of Riverside Crossing Park! There will be live music and entertainment, ice skating performances and a unique choreographed light show from the bridge. After the celebration, head to Fado Pub + Kitchen for the first night of their St. Patrick's Day celebration. Enjoy live Irish music, good eats and great drinks along Longshore Street in Bridge Park. Reganomics will perform in the outdoor tent and Dogwood Road playing in the pub. There is no cover charge for the Friday event. Fadó will host the party again on Saturday from 9 a.m. to 10 p.m. with a $20 cover charge.
MARCH 12, 2022
7- 11 a.m.: Pancake Breakfast, Sells Middle School, 150 W. Bridge St.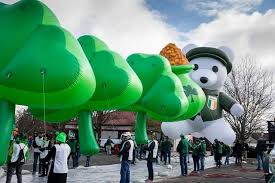 9 a.m.: Inflation Celebration, Graeter's Ice Cream, 6255 Frantz Rd.
10:15 a.m.: Pre-Parade Entertainment
11 a.m.- 12:15 p.m.: St. Patrick's Day Parade, Historic Dublin, 1 W. Bridge St. This year's theme is "The Greenest, Grandest Parade" and leading the fun will be the 2022 Grand Leprechans Keiko and Yoshihiro Hidaka. Around 100 different entrees are to be featured.
For Parade map and road closures, click here.

There are several Irish-approved businesses to visit during your stay in Dublin. DORA  (the designated outdoor refreshment area) hours have been expanded from noon to 10 p.m. on March 12. Enjoy a bite at one of Dublin's Irish pubs like the Dublin Village Tavern. Fado Pub and Kitchen combines the fun, energy and connection of an Irish pub with a kitchen that passionately serves fresh, accessible, European-inspired food. The party continues with live entertainment being presented all day long. Join in the Irish dancing and tempting tastes of their Irish food.
For the little ones, help them find all the resident fairies and learn what each stop has to offer them on the Irish Fairy Door Trail. There are currently 11 different businesses listed on the passport. Pick up your trail guide and then return your completed passport to the Dublin Visitor & Information Center for a free fairy door t-shirt.
For more details on all the St. Paddy's Day happenings in Dublin, click here.