Turn Up the Volume at Music Festivals, New Venues, Special Exhibits and Theater Performances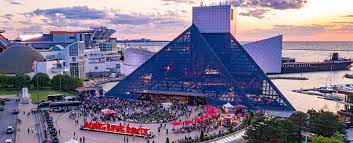 Music-loving visitors can rock out at popular festivals, stroll through perception-shifting exhibits at the world's only Rock & Roll Hall of Fame or experience a show from one of the city's world-class performing arts institutions.
Brite Winter Music Festival (Feb. 25, 2023)
The outdoor music and arts festival returns with the theme Anchors Away! to celebrate Cleveland's connection to the Cuyahoga River and Great Lakes. The event encourages attendees to embrace the fun of the winter while playing skee-ball, warming up by a bonfire or enjoying dynamic light installations and ice sculptures as more than 30 musical acts perform during the free festival.
Rock & Roll Hall of Fame | Hotter Than July: Photographs by Bruce Talamon (through summer)
Hotter Than July offers a visual representation of Blackness during the golden age of soul, R&B and funk (1972-1982) through the lens of photographer Bruce Talamon. Featuring photos of Aretha Franklin, Stevie Wonder and Bootsy Collins, the exhibit transports guests to the smoke-filled clubs on the Crenshaw Strip in South Los Angeles and the largest arenas around the world, where Talamon captured the passion and beauty of the music and the moment.
Cleveland Orchestra's 2022-23 Season
The Cleveland Orchestra's 105th season, under the direction of Franz Welser-Möst, includes 20 guest artist debuts, four world premieres and the inaugural Mandel Opera & Humanities Festival: The American Dream, with performances of Puccini's La Fanciulla del West (The Girl of the Golden West) along with pre- and post-concert discussions, humanities programming and a free community concert event.
Playhouse Square Broadway Series
The 2022/2023 KeyBank Broadway Series includes "Beetlejuice," "Tina: The Tina Turner Musical," "Six" and the Tony-award winning "Moulin Rouge! The Musical" and "Hadestown."
Karamu House 2022-23 Season
Karamu House, the country's oldest Black producing theater, continues its four-show mainstage theater season with powerful productions, including "Red Summer," "The Bubbly Black Girl Sheds Her Chameleon Skin" and "To My White Friends Who Know Me."
Museum Exhibits Present a New Lens on History and Modern Perspectives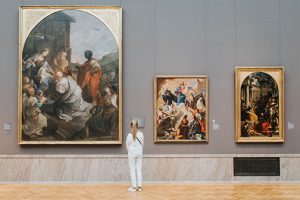 The diversity and depth of Cleveland's world-class museums has long attracted art lovers from around the globe. The recently debuted Google Arts & Culture Cleveland hub extends this reach and showcases the cultural organizations that make the city an under-the-radar arts and culture playground for travelers. Exhibits to catch this year include:
Cleveland Museum of Art (CMA)
The Tudors: Art and Majesty in Renaissance England (Feb. 26-May 14) Organized by CMA and the Metropolitan Museum of Art, this exhibition traces the transformation of the arts in Tudor England through more than 80 objects—including iconic portraits, spectacular tapestries, sculpture and armor—from both the Metropolitan Museum of Art's collection and international lenders.
Egyptomania: Fashion's Conflicted Obsession (April 1-January 2024) This exhibition brings together nearly 50 objects that explore the influence of Egyptomania in fashion by juxtaposing contemporary fashion and jewelry with fine and decorative artworks from CMA's collection.
Museum of Contemporary Art Cleveland (moCa) moCa's 2023 exhibitions and artist residencies will focus on identity, nature, memory and collaboration with debut exhibitions by inspiring modern artists.
Winter/Spring 2023 (Jan. 27-June 11): Nina Chanel Abney's "Big Butch Synergy" will explore and celebrate expressions of Black masculine women. "We Are Dust and Shadow," will feature Sam Falls' work collaborating with nature to create paintings and sculptures. And Amber N. Ford's "Someone, Somewhere, Something" is an effort to use the medium of sound to share stories of grief.
Partnerships, Portraits, and the Power of Photojournalism: Black History According to Allen E. and Frances T. Cole (through April) Key themes in the history of Black Cleveland are illustrated within the larger context of American history, civil rights and the art of photography in this new exhibition. It commemorates the centenary of the establishment of the Allen E. Cole Photography Studio in Cleveland's Fairfax community.
Federal Reserve Bank of Cleveland Money Museum and Learning Center | Triple Play
A new exhibit at the Money Museum honors the legacy of the Negro Leagues with the new Negro Leagues Baseball Commemorative Coins central to the display. The exhibit recognizes Larry Doby, the first Black player in the American League who broke into the Majors as well as Satchel Paige, the legendary Negro League pitcher who signed with the Cleveland Indians in 1948, becoming the first Black player to pitch in a World Series.
Outdoor & Active Travel Enthusiasts Find New Thrills in Every Season

Visitors to Cleveland can catch some thrills and get active with new trails, parks, sporting venues and waterfront activities.
Cleveland-Cliffs Bike Park at Ohio and Erie Canal Reservation
This new outdoor complex and bike park opened in October 2022 and includes a pump track for bicycle motocross, bike playground for beginners and a competition course with rollers, berms and a tunnel. The park connects to the Towpath Trail, providing trail access directly to Downtown Cleveland.
This mile-long trail opened in October 2022 and features hiking paths, a suspension bridge and access to one of the park system's most scenic vistas at a new overlook 130 feet above Euclid Creek and the valley below.
Five Iron Golf Simulator (Early 2023)
Around the corner from Progressive Field and Rocket Mortgage FieldHouse, sports fans can take a swing at Five Iron Golf Cleveland, a 16,000-square-foot indoor golf and entertainment complex that will feature 14 custom-built golf simulators, lessons for golfers of all levels, a full-service restaurant and bar and a custom club fitter and pro shop.
 Fresh Culinary Concepts Bring New Flavors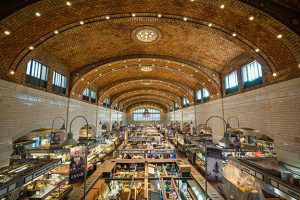 Visitors looking for the city's next foodie hotspot in 2023 are likely to find it inside a restored historic landmark or a storefront in one of Cleveland's diverse neighborhoods, as local chefs and business owners invest in their communities and introduce new concepts.
For more information, visit www.thisiscleveland.com.