Visual Arts Honor Underrepresented Artists
Significant new acquisitions and visual art exhibits this fall bring the work and stories of underrepresented artists to the public, including:
Artists Archives of the Western Reserve | W/O Limits: Art, Chronic Illness, & Disability (Through Nov. 12, 2022)
This exhibition features the work of artists experiencing chronic illness and/or disability, showcasing the work of nine evocative Northeast Ohio artists.
Cleveland History Center | Partnerships, Portraits, and the Power of Photojournalism: Black History According to Allen E. and Frances T. Cole (Now – April 1, 2023)
Key themes in the history of Black Cleveland are illustrated within the larger context of American history, civil rights and the art of photography in this new exhibition. It commemorates the centenary of the establishment of the Allen E. Cole Photography Studio in Cleveland's Fairfax community.
Cleveland History Center | Black Moses: The Art of Reverend Albert Wagner
This new exhibit recognizes the "visionary" or "outsider" art of Reverend Albert Wagner, who on his 50th birthday experienced a divine revelation guiding him to become a prolific and celebrated artist, breaking long-standing racial and class barriers in the world of visual art.
Cleveland Museum of Art | Native North America (through Dec. 2022)
Objects from the Great Plains are some of the newest works now on display in the Native North American Gallery, including a child's beaded cradle and a woman's hair-pipe necklace. Two works by contemporary Inuit artists of the Canadian Arctic also join the gallery for the first time in at least 20 years.
New Exhibits and Theater Performances Bring Diverse Viewpoints to Center Stage
Influences from diverse cultures continue to shape the city's art and cultural offerings. This fall, travelers can enjoy new exhibits and theatrical performances, including:
Karamu House 2022-23 Season (Oct. 2022-May 2023)
Karamu House, America's oldest Black producing theater, has announced a four-show mainstage theater season. Productions include "Black Nativity," the holiday play of one-time Cleveland resident Langston Hughes, as well as productions of "Red Summer," "The Bubbly Black Girl Sheds Her Chameleon Skin" and "To My White Friends Who Know Me."
Rock & Roll Hall of Fame | Hotter Than July: Photographs by Bruce Talamon (through summer 2023)
Hotter Than July offers a visual representation of Blackness during the golden age of Soul, R&B and funk (1972 – 1982) through the lens of photographer Bruce Talamon. Featuring photos of Aretha Franklin, Stevie Wonder and Bootsy Collins, the exhibit transports guests to the smoke-filled clubs on the Crenshaw Strip in South Los Angeles and the largest arenas around the world, where Talamon captured the passion and beauty of the music and the moment.
Rock & Roll Hall of Fame | The Beatles: Get Back to Let It Be (through March 2023)
Visitors can follow the band's creative journey through original instruments, clothing and handwritten lyrics loaned by Paul McCartney, Ringo Starr and the estates of George Harrison and John Lennon. The exhibit features high-definition film clips, audio and custom projections to transport fans into The Beatles' vibrant world of January 1969.
The Treelawn (early 2023)
A mixed-use project is set to transform a historic building – once home to a Slovenian Workmen's Home – into a club for live jazz and modern classical performances. Dubbed The Treelawn for the regional term for the grassy strip between the sidewalk and the street, the venue will preserve the building's many Slovenian artifacts during the restoration.
Great Lakes Science Center | Curious George: Let's Get Curious (through Jan. 2023)
Young children's natural curiosity will be inspired with this new exhibit based on the familiar characters in H.A. and Margret Rey's classic stories. Hands-on interactive play and scenes with everyone's favorite fictional monkey teach early science, math and engineering concepts.
Great Lakes Science Center | "Run! Jump! Fly! Adventures in Action (through Jan. 2023)
Families get moving with the fun of physical activity in the new "Run! Jump! Fly!" exhibit, offering all ages the chance to experience unique sports like kung fu, surfing, snowboarding, yoga and climbing in a relaxed, non-competitive environment.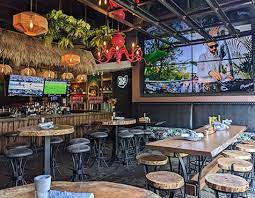 Restaurant & Bar Openings Fuel Visits to The Land
Acclaimed female chefs and minority entrepreneurs are leading the way for this season's anticipated culinary and taproom openings, including:
Pulpo Beer Co. Taproom (September 2022)
With tropical interiors, artistic octopus renderings and a beach hut serving as the main bar, the new taproom of Ohio's first Latin-owned brewery and only Latina brewmaster caters to shoppers, visitors and late-night revelers at the Crocker Park lifestyle center.
City Goods and Hangar Bodega & Bar (September 2022)
A community of seven dome-shaped hangars in the Ohio City neighborhood make up a unique new shopping and cocktail bar experience. The hangars contain shops with products from 20+ small local businesses and makers, with the center hangar serving as a bodega-style cocktail bar and community gathering place.
Day and Night Cereal Bar (September 2022)
Breakfast lovers have a new all-day haven with the opening of Day and Night Cereal Bar, transforming a bowl of cereal into a culinary experience complete with customized milks, cereals, ice creams and cartoons for kids big and small.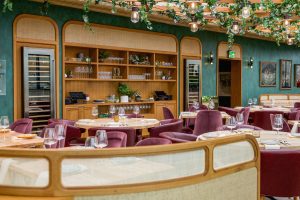 The newest culinary opening inside Intro Cleveland, JaJa offers a modern take on the classic steakhouse with Argentinian, Latin and Mediterranean influences. The elegant interior impresses with plush fabrics, natural stone, lush greenery and a retractable roof.
Elevated tapas and paella are next on the menu for fans of James Beard-nominated chef Jill Vedaa and business partner Jessica Parkison of Salt+ restaurant. The opening of Evelyn, named for Vedaa's mother, will transport diners with the flavors of Spain in a 1940s art deco setting.
Pearl Street Wine Market & Cafe (October 2022)
James Beard-nominated chef Karen Small and restaurant entrepreneur Jill Davis bring a new concept to the Ohio City neighborhood's popular restaurant scene. Pearl Street, a European-inspired bistro and market, will offer guests casual small-plates with Small's signature focus on local and seasonal sourcing.
Muze Gastropub, Eat Me! Pizza and Trellis Rooftop Bar (October 2022)
Three restaurant and bar experiences open this fall as part of the initial development at Studio West 117, a first-of-its-kind neighborhood created for and by the LGBTQ+ community.
Muze: Serving elevated dining with an international flair, Muze will feature a wood-fired grill, outdoor patio and a flagship drag brunch.
Trellis: Bridging luxury and relaxation, this rooftop patio bar will offer craft cocktails and small plates with DJ entertainment, fire pits and cabana seating.
Eat Me! Pizza: From scratch, made-to-order artisan pizza will be served both by the slice and whole pie until 4 a.m. on Fridays and Saturdays for weekend revelers.
This two-level sports bar will bring a 3,000-square-foot rooftop patio with lake and river views to Downtown's Flats East Bank development. High 5 guests will enjoy a casual environment with value-oriented bottle service and upscale food.
Half Moon Bakery (November 2022)
After thriving during a pandemic opening, popular Latin café Half Moon Bakery will bring Argentinian and Colombian empanadas, empanada-style tacos, Cuban sandwiches and Latin pastries to Tower City Center, one of Downtown's best-known addresses.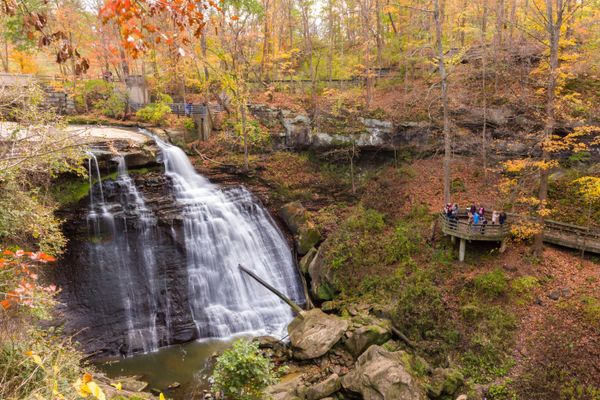 New Opportunities for Active Visitors
Whether visitors want to cheer on a professional team or hike through the colorful foliage-filled Cuyahoga Valley National Park, Cleveland shines in the fall. New and updated offerings for athletic enthusiasts include:
The Fieldhouse at Studio West 117 (Oct. 2022)
The Fieldhouse is the first phase of the $100 million Studio West 117 development, a first-of-its-kind neighborhood created for and by the LGBTQ+ community. This 30,000 square foot complex includes a gymnasium with courts for pickleball, dodgeball, basketball and volleyball, an outdoor rock-climbing wall and a community experience garden. Programming will include cooking classes, group exercise classes and other experiences that visitors can join.
Five Iron Golf Simulator (Early 2023)
Around the corner from the action at Progressive Field and Rocket Mortgage FieldHouse, sports fans can get an interactive experience with the new Five Iron, a 16,000 square foot indoor golf and entertainment complex opening in early 2023. Five Iron Golf Cleveland will feature 14 custom-built golf simulators, lessons for all-levels of golfers, a full-service restaurant and bar and a custom club fitter and pro shop.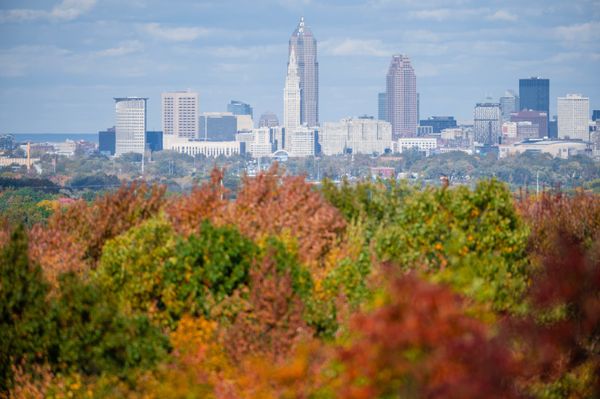 New Hotel Projects Welcome Visitors
The latest updates to Cleveland's hotel landscape add restored historic buildings and renovated skyscrapers to an already wide array of visitor accommodations. Upcoming projects include:
A 1960s modernist skyscraper in Downtown Cleveland will house a new W Hotel, opening in 2023. Plans for the 210-room hotel include a 15,000-square-foot ballroom and event center, a full-service spa and gym and a restaurant and bar on the 38th floor with panoramic city views.
After extensive renovations, the Renaissance Cleveland Hotel will rebrand as Hotel Cleveland, returning the city's second-largest hotel to its original name. The 491-room hotel will be part of Marriott's Autograph Collection. Renovations to the 1918 building are underway and set to be completed in 2023.
To keep up-to-date on new developments and activities, please visit www.thisiscleveland.com or follow us on Twitter, Facebook, Instagram or YouTube.