Head Out on a Bike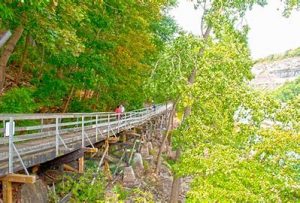 With 145 bikes in more than 30 locations, the new Reddy Bikeshare program makes it easy to chart your own path to adventure. From taking an excursion through America's oldest state park to cruising along the lower Niagara River up to Old Fort Niagara, there are no limitations on where you can go. Reserve a bike through their app or pick one up at a Reddy rack. Reddy Bikeshare is a healthy, fun, and easy way to explore Niagara Falls. >MORE 
Experience the Niagara River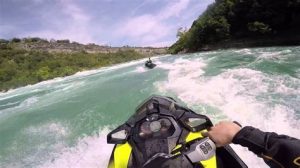 Take in the amazing sites of the Niagara Gorge while travelling through the class 5 rapids of Devils Hole and experience the magnitude of the Whirlpool. Whirlpool Jetboat Tours offers a Niagra Adventure Package with two days transportation with Niagara Parks Commission WEGO, admission to Horn blower Niagara Cruises, Journey Behind the Falls, White Water Walk and Niagara Fury. Packages are available through October! Located about a 25 minute drive from Niagara Falls along the beautiful Niagara Parkway in Niagara-on-the-Lake!
Take a Guided Hike
Explore scenic venues like Niagra Falls State Park, Whirlpool State Park, Devil's Hole State Park and Artpark on foot, or hit the water and cast your worries away on a fishing charter. Open 365 days a year, Niagara Falls State Park has awe-inspiring scenery! It also features thrilling attractions, interactive exhibits, miles of hiking trails, and delectable dining options in a family-friendly environment. It's an adventure-packed experience! No passport is needed to experience an unforgettable and breathtaking Niagara Falls vacation.
Get toasty with our local spirits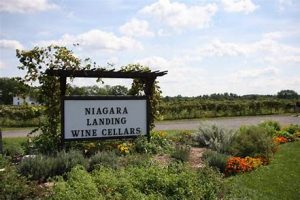 The Niagara region is not only scenic, it's home to the Niagara Wine Trail, USA, where you can tour wineries, breweries and cideries. Spend the day indoors, toasting your relaxing getaway. And if you like ALL kinds of spirits, you can also visit the Winery at Marjim Manor where ghostly apparitions join the other spirits on the menu. If you're looking to experience the award-winning wines, be sure to get a Vino Visa Passport. It is full of coupons for local transportation, dining and lodging, the passport is a great way to experience the flavor of the region.
Comfort Food
The Niagara region is filled with warm, welcoming restaurants. Enjoy modern American cuisine with a view at Water Street Landing. Feast on classic Italian cuisine at Fortuna's. Local Restaurant Week in Western New York is March 20-25 with speccial dining features starting as low as $20. e & Café. Or experience the raw bar at Remington Tavern. Concoct the perfect date night. Niagara Falls has long been a destination for romance. Make a date to enjoy the new Pulse Arena. And enjoy  a romantic table for two. Eat, drink and binge on chocolate! For Foodie Fun, visit a chocolate factory. Tour the Niagara Wine Trail, USA. Sample brews at The Art of Beer. Can you smell fall in the air? It's actually the scent of fall delicacies and delights coming from the Niagara Falls Culinary Institute! Offering classes for both adults and children, and ranging from Thanksgiving stuffing and gingerbread houses, to Mediterranean sandwiches and everything in between, you couldn't pick a better time to create your own gourmet dishes.
Stay the Weekend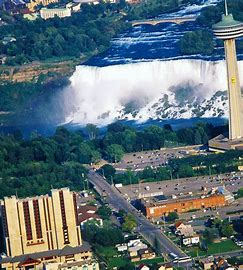 Discover the brand new  DoubleTree by Hilton Hotel Niagara Falls located in
downtown Niagara Falls. Features an indoor pool, Parkway Prime Restaurant and signature chocolate chip cookies.  Just minutes away from the Niagara Falls State Park, attractions, restaurants and the Seneca Niagara Resort & Casino, this new property features 192 modern, spacious guests rooms.
A Free Ride To Adventure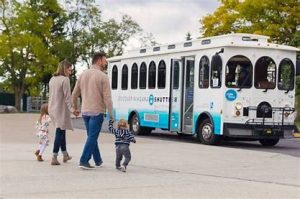 The Discover Niagara Shuttle is the perfect way to experience Niagara Falls USA's iconic landscape and rich history. Offered 7 days a week, this free shuttle connects to a variety of destination sites from "Falls to the Fort" along the scenic Niagara River. Park your car and climb aboard for air conditioning, WiFi and a day of amazement! It's easy to get caught up in the breathtaking scenery of Niagara Falls USA along the 14-mile route on the Discover Niagara Shuttle. Experience a variety of things to do from hiking trails in the Niagara Gorge to boutique shopping, decadent cuisine, historic reenactments and thrilling high-speed jet boat rides through Class V rapids. Operating daily from May to October, the shuttle provides convenience for visitors looking to venture forth in the region.
Living on the Edge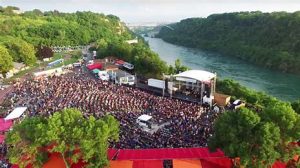 High atop the Niagara River Gorge, a celebration of the arts happens every summer at Artpark. See bands and musicians spanning all decades and genres, then immerse yourself in art, culture and community with festivals and family-friendly activities. Western New York's premier summer performing and visual arts destination offers a diverse schedule ranging from popular concerts to art installations to international, local and regional artistic collaborations and more. >MORE