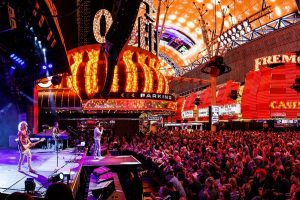 Fremont Street Experience, the six-block entertainment district located in historic downtown Las Vegas has only one more free concert scheduled this year on Oct. 28. For more information, contact Kirvin Doak Communications, fsepr@kirvindoak.com.
Las Vegas may be best known for glitzy casinos and glamorous shows, but Sin City is truly a wonderland for outdoor recreation lovers. Red Rock Canyon National Conservation Area is an easy 30-minute drive from the Las Vegas Strip and has more than 30 hikes and hiking trails. The Kraft Mountain Loop is a favorite thanks to rock scrambles and a wash chock full of colorful rock formations. Valley of Fire State Park is also popular with geologically inclined hikers due to its abundance of orange, pink and red rock formations with names like Elephant Rock, Fire Wave and Mouse Tank. Post-hike, fill up on a walking food tour with Lip Smacking Foodie Tours.
Old Las Vegas Mormon Fort State Historic Park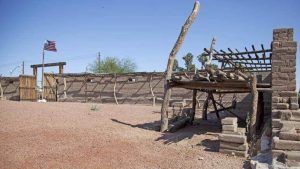 Picture the Las Vegas we know and love today. Now, strip it all away and replace it with a frontier outpost about half the size of a football field. That fort — built in 1855 — was the first permanent, non-native settlement in the Las Vegas Valley, and its historic remains still stand in the middle of modern Las Vegas. It's a true trip back in time to the origins of the largest city in the Silver State. Mormon missionaries set up camp along the Las Vegas Creek. Naturally drawn to this spring-fed creek that flowed through this low desert valley, these early settlers took advantage of the oasis it formed, as it was the only free-flowing water for miles. Today, visitors can explore parts of the original structure that stood here, along with replicated parts of this original fort, early pioneer artifacts and more, just a few completely incongruous blocks from Fremont Street. The fort is open Tuesdays through Saturdays from 8 a.m. to 4:30 p.m. with the last admittance at 4 p.m.
Historic Museums
Nothing brings this town's wild story to life like Las Vegas' museums. The city's glory days are on full display across the 20,000-square-foot Nevada State Museum–Las Vegas, with displays ranging from the "Showgirl Wall" to "the Atomic Age" to features on colorful characters like Howard Hughes and the Rat Pack. And then there's the Mob Museum,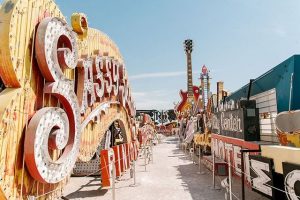 showcasing both sides of the notorious battle between organized crime and law enforcement, here in Las Vegas and beyond—complete with an on-site speakeasy and distillery. Find a different kind of illumination at the Neon Museum, home to more than 200 rescued historic neon signs, on an our-long tour any day—or better yet, night—of the week.
Haunts
 From phantom apparitions of mobsters to urban legends of Egyptian curses and ghostly whispers here are a few destinations not to miss.
In 1980, one of the most tragic events in Las Vegas history occurred inside the original MGM Grand resort. A raging fire engulfed one of their hotel towers that caused the horrifying death of 85 people. The building was eventually rebuilt, sold, and renamed Bally's and more recently renamed the Horseshoe Las Vegas. Guests who stay in the refurbished North Tower claim they have experienced the overwhelming smell of smoke and the sounds of people screaming from down the hallway, making Horseshoe Las Vegas one of the scariest haunted hotels in Las Vegas. The most chilling ghostly encounter is an elderly woman who is said to occupy a bank of slot machines on the casino floor. She calmly plays two games at once as her dress engulfs her in flames. If approached, she disappears. The MGM Grand fire led to new Las Vegas fire regulations that are now some of the strictest in the nation so that this kind of tragedy would hopefully never repeat itself.
The strange occurrences surrounding The Luxor have been prevalent since its construction began, as have the rumors that this luxury resort is more than just haunted, but possibly cursed.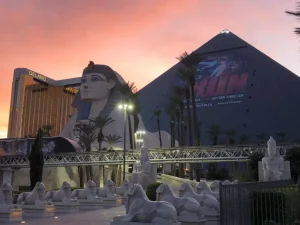 Themed after the massive tombs of Egypt, it is believed that the black exterior in tandem with the missing sacred eye on the top of the pyramid attracts dark energy to the hotel. Multiple deaths have occurred, including an unknown number of workers during construction, two guests jumping to their deaths from the interior balconies, and even cases of Legionella bacteria that killed one guest and caused two more to fall ill. Reports of ghostly sightings on the high hotel balconies as well as moving objects and apparitions inside of the Luxor's Titanic Artifact Exhibition are common.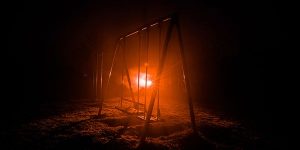 Fox Ridge Park in Henderson has a swing set that is said to be haunted by a little boy who died in a car crash, but many believe that the entity is much more demonic than it appears.