By Tim Trudell
Freelance Travel Writer
All photos are courtesy of Tim
On road trips between Omaha and Minneapolis, I used Clear Lake as a stop, pulling off Interstate 35 to refuel the car and myself. Then, one day, I fell in love with the North Iowa community.
Looking for a local place to enjoy lunch on a drive north, my wife and I stopped at a local bar and grill for a burger and fries. The place, no longer around, was decorated with all sorts of Buddy Holly and Ritchie Valens memorabilia. As a child, I grew up with my older siblings listening to their music. I became a fan of the early rock and roll legends at a young age.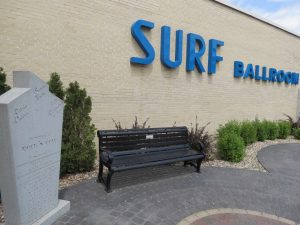 Told the Surf Ballroom – where they and JP "The Big Bopper" Richardson performed for the final time – was only a few blocks away, we stopped outside for a photo. The trio and their pilot perished in a plane crash north of town shortly after the 1959 Winter Dance Party. A historical marker outside the music venue honors them.
A few years later, invited to spend a summer weekend in Clear Lake, we jumped at the opportunity. Since our first visit in 2015, Clear Lake is a nearly annual visit for us. From weekend stays to a day trip, Clear Lake is one of my favorite places in the United States and a destination I can visit over and over.
The Surf Ballroom remains nearly intact from its early days as a concert venue. Still hosting concerts, the Surf honors the fallen legends with a Winter Dance Party each weekend near the February 3 anniversary of the crash. A green room off the stage is full of autographs from musicians who have performed there over the years. Tours of the Surf Ballroom include memorabilia of the stars, as well as guitars and other items donated by performers.
Located in a cornfield about an 11-minute drive north of Clear Lake, the Buddy Holly Crash Site attracts fans, paying their respects to the musicians and pilot. A giant pair of Holly's signature black-rimmed glasses sits atop fence posts, marking the spot.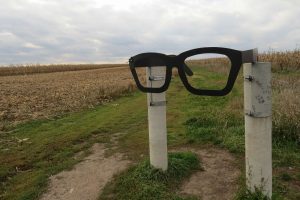 With the private farmland opened to the public, visitors are asked to treat the area with respect.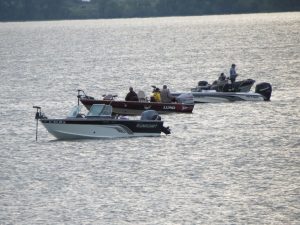 Whether you're a water enthusiast or enjoy tourist attractions, Clear Lake has something for everyone. Anglers can fish from the shoreline or drop a boat into the chilly glacier water and head out to the center of the lake, where plenty of crappie, bluegill, channel catfish, carp and largemouth bass await them.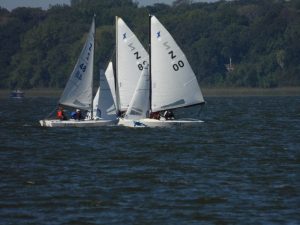 Recreational boating on Clear Lake is popular, with captains navigating sailboats as speed boats blast by with skiers or people on tubes trailing behind. Parasailers and jet skis can also be found on the water. A small sandy beach near the downtown docks attracts sunbathers, swimmers and sandcastle builders on warm summer days.
Explore Clear Lake from the comfort of a seat with drink in hand during a 90-minute tour aboard the Lady of the Lake paddle boat. Hosting tours for more than 30 years, Lady of the Lake operates between Memorial Day weekend and Labor Day. Drawing nearly 100,000 people, Clear Lake's Independence Day celebration is among the best in the Midwest. For seven days, Clear Lake's downtown becomes "Party Central," with a midway, amusement rides, games, music and other entertainment. The lake is the place to be after sunset when a fireworks extravaganza explodes over the water, capping a day of events July 4. The celebration concludes with events on July 5.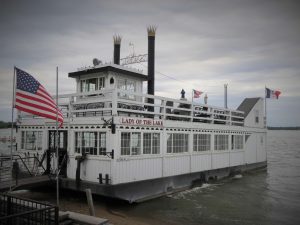 Summer may be the most popular time of the year for Clear Lake tourism, but the city of 7,000 people is a prime spot to visit year-round. Colors of the Wind Kite Festival attracts hundreds of kite flyers and thousands of onlookers the third Saturday of February. With colorful, giant kites in the shape of animals such as whales, horses and kittens, people and other creations, kite enthusiasts take to the frozen ice, flying custom-built kites stretching to about 50 feet long. From 11 a.m. until 4 p.m., Clear Lake provides impressive views.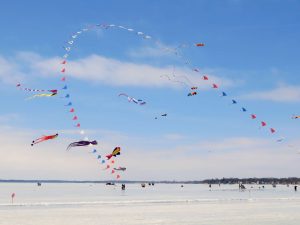 No matter the season, check out Cabin Coffee for a delicious coffee drink or pastry, grab an old-fashioned ice cream treat at Charlie's Soda Fountain. No visit to Clear Lake is complete without a stop at Cookie, etc. It's a safe bet you'll head home with a dozen freshly baked cookies.