By Kathleen Wells
Managing Editor/AmericanRoads.net
Tallahassee is filled with attractions that are brimming with history and culture. Culinary choices offer anything your heart can desire. Of course, like any flirtatious southern belle, Tallahassee has its quirky side.  The mix makes it an unforgettable city. Spend a day there and you will agree.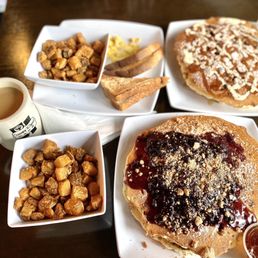 Start off with breakfast at either
Canopy Road Café
or
Uptown Café
. Both will leave you happy and very full. At Canopy Road Café, They are famous for their Sweet Potato Pancakes. All of us sampled something different and all were happy. So get quirky and try their Funky Monkey pancakes with chocolate chips and banana or the Fat Elvis with–what else–peanut butter chips, bananas and bacon. Other choices include great omelets like the Big Daddy or Big Man on Campus. If that repetitious "big" gives you the idea that the servings are very generous, you are not wrong.
Uptown Café
can whole its own. They serve breakfast/brunch all day long and have been doing it for 30 years. Must be doing something right. Their Banana Bread French Toast is one of the things they brag about. One taste and you'll know why. Another special is Uptown Apricot Glazed Smoked Salmon. Take a bite, close your eyes and you are transported to Heaven. The other choices run the gamut from simple biscuits and gravy–perfectly seasoned– to their Mancakes, a pan-sized pancake stuffed with bacon, ham and sausage and topped with two eggs cooked your way.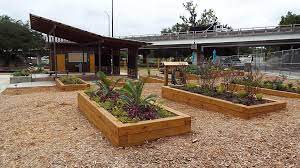 Now that you are fueled up, it's time to see the city in a special way.
Tallahassee Tour by Segway
will begin in Cascades Park, a special attraction in itself, and view spots like the Korean War Memorial and Smokey Hollow
.
Smokey Hollow was once a thriving African American community that was torn down to make way for urban development. None of the original homes still stand but three "Spirit Houses," roofed and studded areas offer a glimpse of what life here was like. Each of the houses is named for feelings the community valued, "Community Spirit," "Family Spirit" and "Enduring Spirit." There are also gardens and fruit trees representing the community's agricultural spirit.You will want to view the
Capitol
and the
Historic Capitol.
 If there is time to explore, for the working capital be sure to take the special elevator to the 22nd floor which is the highest place in the city and has a wonderful view from the four-sided observation deck. The Historic Capitol merits a longer tour for the history that is enshrined there. Weekday guided tours are available for large groups by contacting the Welcome Center for more information. Bookings for guided tours during the months of March, April, and May should be made several months in advance. However, Self-guided tours of the Capitol can occur Monday through Friday between 8 a.m. and 5 p.m. excluding any weekday holidays.
The really quirky
Railroad Square Art District
will make you want to return there as well. It is so colorful and filled with shops, art and artists at work. If you are there on First Friday of each month, it's a mini Mardi Gras.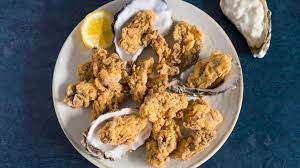 Speaking of art, if you're an art connoisseur, don't miss
LeMoyne Center for Visual Arts.  
When I visited, it was hosting a show for a very talented couple, Debra and Randy Brienen. The Brienens do a show called Side by Side. They each paint the same scene but each in his or her own style.  The center hosts various art events each year.
If you are ready for lunch now, try
Kool Beanz Cafe.
Kool Beanz is a hip modern bistro with lots of seafood as well as meat dishes. The Cornmeal Fried Oysters are delicious. Their motto says it all,
Eat
, Drink & Talk Loud – You're Among Friends!
Mission San Luis takes you way back to the earliest days of Florida History. Costumed docents dressed as Spanish settlers make the experience realistic. Recreated structures perfectly represent both native and settler's homes and culture.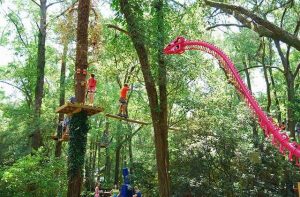 Another place that recreates early Florida is Tallahassee Museum. This treasure combines environmental history and cultural history. The wildlife exhibits are set on a chain of lakes with cypress forest and native plants as a background for Florida native wildlife. Bears, wolves, deer, panthers and other wildlife are set in natural environments. Be sure to see the young cougar cubs. Florida's past comes to life in the Pioneer Village and Big Bend Farm. Big Bend Farm takes you into rural Florida in the 1880s. Experience life on a farm and visit the Turpentine commissary. Pioneer Village gives you a feel for the plantation lifestyle in the 1800s with Bellevue plantation house, Bethlehem Missionary Baptist Church, Seaboard Airline Caboose, and Concord Schoolhouse. Moving forward, Jim Gary's dinosaurs all created from old car parts are a different kind of art.
If plantation life at Pioneer Village sparked an interest in looking into African American History, visit Meek-Eaton Black Archives at Florida A&M University. This is a combination of research facility and historical museum.   
By now you probably need a little pick-me-up. There is no better place for that than Lofty Pursuits. It combines an old-fashioned ice cream parlor with a candy-making operation, If you time it right you can see the candy made right in front of your eyes while you sip a root beer float or an old-fashioned soda. Various types of ice cream abound in the cases for you to choose. Should the little ones get bored while you are fascinated watching hot masses of sugary ingredients pulled and chopped into delicious candy, there are lots of toys available for them to enjoy.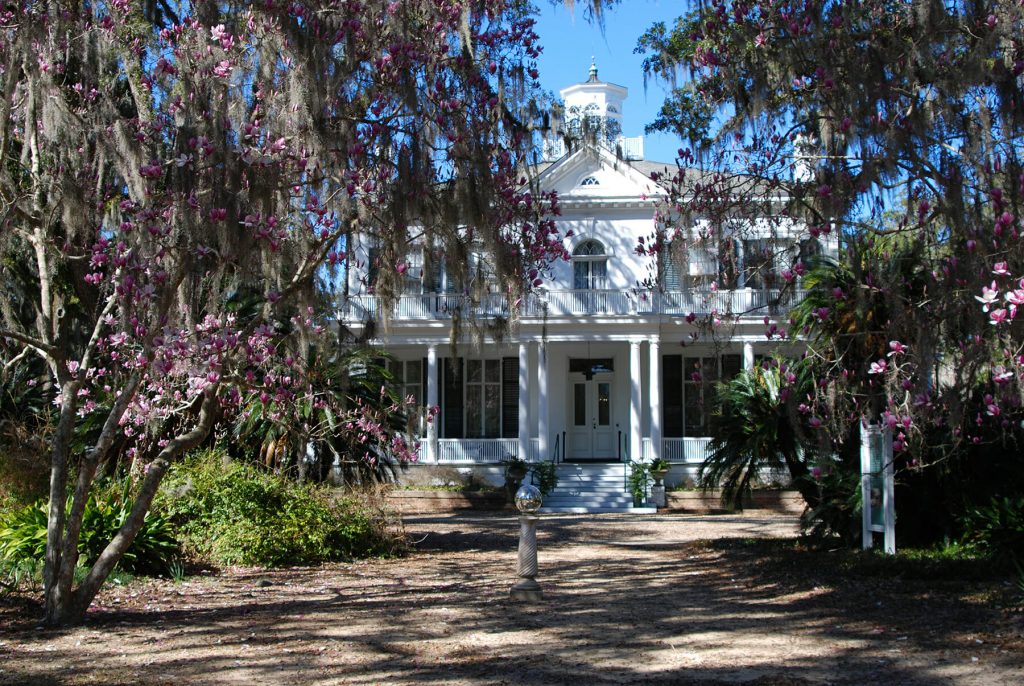 Goodwood Museum & Gardens for another trip into the past. Our docent really was into her role as Margaret Hodges Hood. She tells how her first husband bought the most expensive bed in history and ended up owning the 1830s Goodwood estate.
There is another home you must see. Spring House was built by Frank Lloyd Wright for the Lewis family in 1954. Byrd Lewis Mashburn, the daughter of the family who grew up in the house, will share her life experiences growing up in Florida's only private home in Florida designed by Wright with you. It is also one of only two pod-type houses Wright designed.
By now you are ready for some refreshment and relaxation. You could amble over to Proof Brewery or go more sophisticated and enjoy Happy Hour at Level 8 Lounge in Hotel Duval. Proof gives you an opportunity to have a quiet brew in the taproom or enjoy live music, bocce ball, table tennis, and other activities in the outside Beer Garden. Food trucks are usually set up just outside, You're in the Railroad Square Art District so you may want to explore.
Level 8 Lounge offers some interesting cocktails and an extensive tapas menu. My choice is the Meat Board. The atmosphere is sophisticated and fun in a rooftop lounge. You can choose glass-enclosed or outdoor surroundings.
For supper, choose between Nefetari's Fine Cuisine & Spirits Uptown Café, The Edison or Cypress.  All good choices so if you are staying longer you might try them all. Nefetari's is almost a museum. It's also an entertainment venue as, along with unusual food that you can tailor to you needs, there are local bands playing their original music. If it's a special occasion when you visit you might consider reserving The Queen's Table and enjoy being an Egyptian Queen for a Day.
The Edison offers a look at Tallahassee's history as well as superb food. It was formerly a 1921 power plant that converted coal into gas to provide lighting and heat for the city's residents. Today, it is a smart contemporary restaurant with a historic feeling. It is located in Cascades Park where you started your segway tour. My favorite dish was the Brick Chicken.
Cypress is the two times winner of Florida Trend "Golden Spoon" so you know you will get quality food and great service. The food is Southern Regional.  It's locally owned and operated David and Elizabeth Gwynn and has been in business since April of 2000. David is a graduate of the Culinary Institute of American.
If you are in Tallahassee on Friday or Saturday, check and see who is playing at the Capital City Amphitheater. This is located in Cascades Park,  OAR preformed the nioght I attended and I can tell you acoustics are great.
After the show, head out to the Bradfordville Blues Club. This is a real old-fashioned juke joint. It's way out in the woods down a narrow dirt road but it is well worth the drive. Some of the best blues bands play on weekends and between sets there is a bonfire blazing in the back yard where you can buy some catfish fried as you order right out there in a small wood hut. This has been named as the only stop in Florida on the Mississippi Blues Trail.
You can fill a day (or a week) with fun activities and will leave understanding why the city's tag is "I Heart Tally."