Photos & Article By Kathleen Walls
Contributing Editor/ Publisher https://www.americanroads.net/
(Blue text is from August 20i23 issue of Ext. Wkd. Getaways)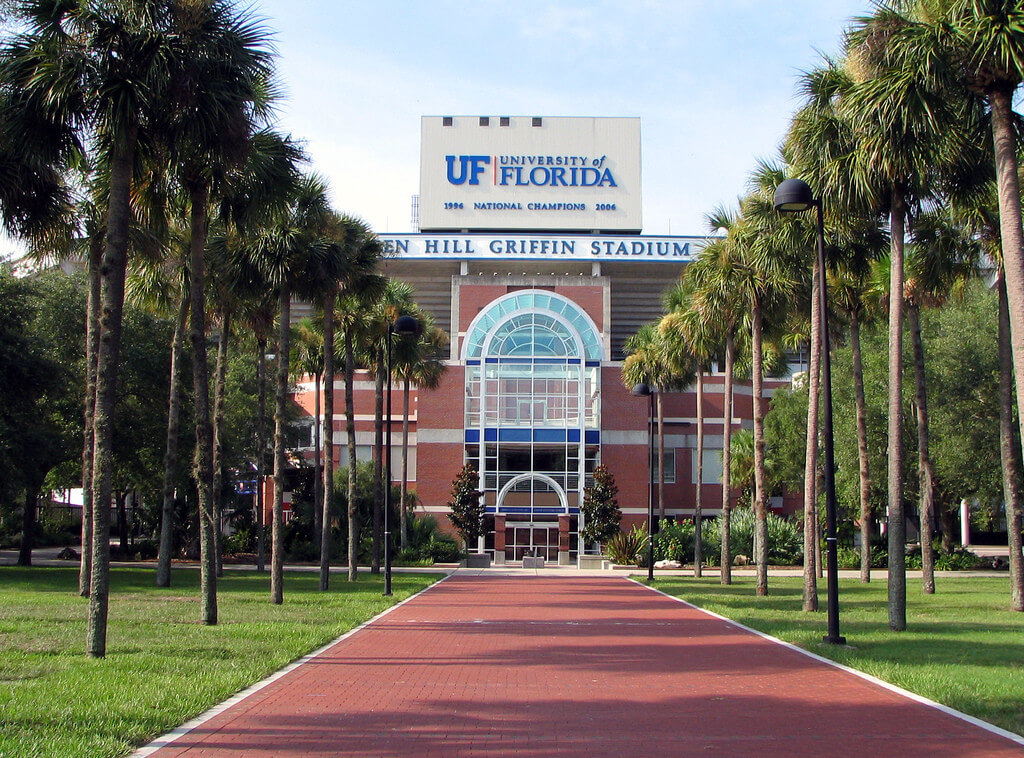 Gainesville is the home to the University of Florida. Its mascot is an alligator, and its football team is the "Gators."
It's not all study and sports. It has a tremendous range of things to see and do. There are several museums, some amazing natural attractions, and historic sites that make history a real-life fun experience. There is something for every interest. Many are sponsored by the college and free, making it not only fun but an inexpensive spot to visit.
Museum of Natural History
The Museum of Natural History is one of the college's free museums. It ranks in the nation's top five natural history museums. There are several sections including "South Florida People & Environments," "Florida Fossils: Evolution of Life and Land," "Underwater Walk-Through," and "Discovery Zone" for kids. However, my favorite is "Butterfly Rainforest," one of the few paid exhibits, but well worth the few dollars. When you step into it, you are surrounded by over 1,000 free-flying butterflies and birds from around the world. The outdoor enclosure is filled with more than flying jewels. As you travel along the walking trail among the tropical plants and waterfalls, you'll see little birds, turtles, and fish. Don't be surprised if one of the fluttering butterflies alights on your hand or shoulder.
Harn Museum of Art
Another free UF museum is Harn Museum of Art. If you haven't traveled a lot in Florida, "Florida Impressions" shows you a part of Florida you've never seen with paintings, from historic landmarks to coastlines and waterways. There is a lot of contemporary art as well if you prefer modern.
Matherson History Museum
Matherson History Museum is a small free museum with a strong music and theater slant. "Return to Forever: Gainesville's Great Southern Music Hall" tells the story of Great Southern Music Hall, located in the Florida Theatre in Gainesville's historic downtown section. Between 1974 and 1978, this was Gainesville's top concert venue. It hosted musicians including Jimmy Buffett, Bob Seger, Ray Charles, Muddy Waters, Steve Martin, Ike and Tina Turner, the Count Basie Orchestra, and Bo Diddley who lived nearby.
UF Bat Houses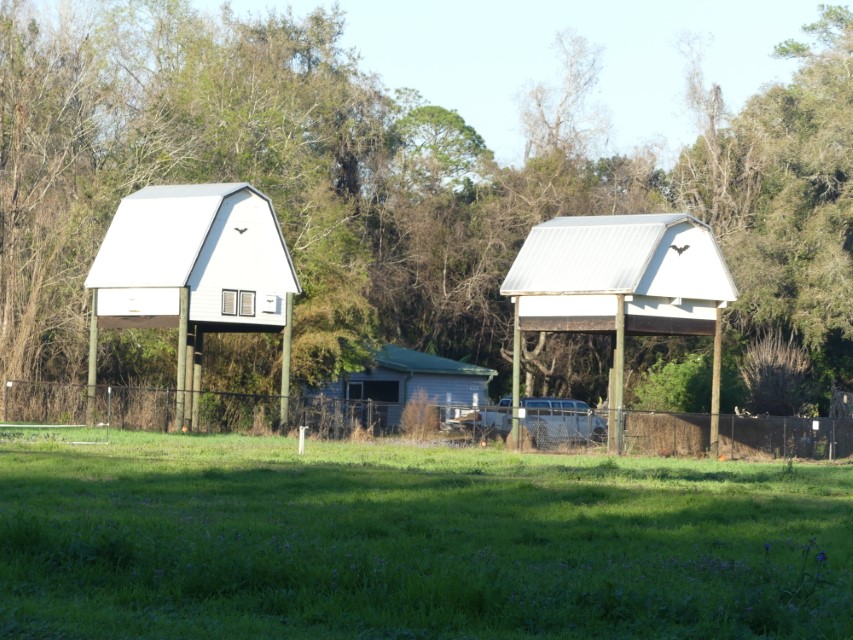 On the natural side, Gainesville is home to a unique event. Every evening just after sunset, crowds gather to watch a free show on the shore of Lake Alice. It's not a movie or concert, but Batman fans will be amazed. The university houses around 500,000 bats in their special UF Bat Houses. When the bats emerge each evening, the sky overhead is filled with flapping wings. They consume up to 2.5 billion insects each night. Eliminating mosquitoes without pesticides plus providing a free show is a big plus. There's a free parking lot next to the bat houses.
Kanapaha Botanical Gardens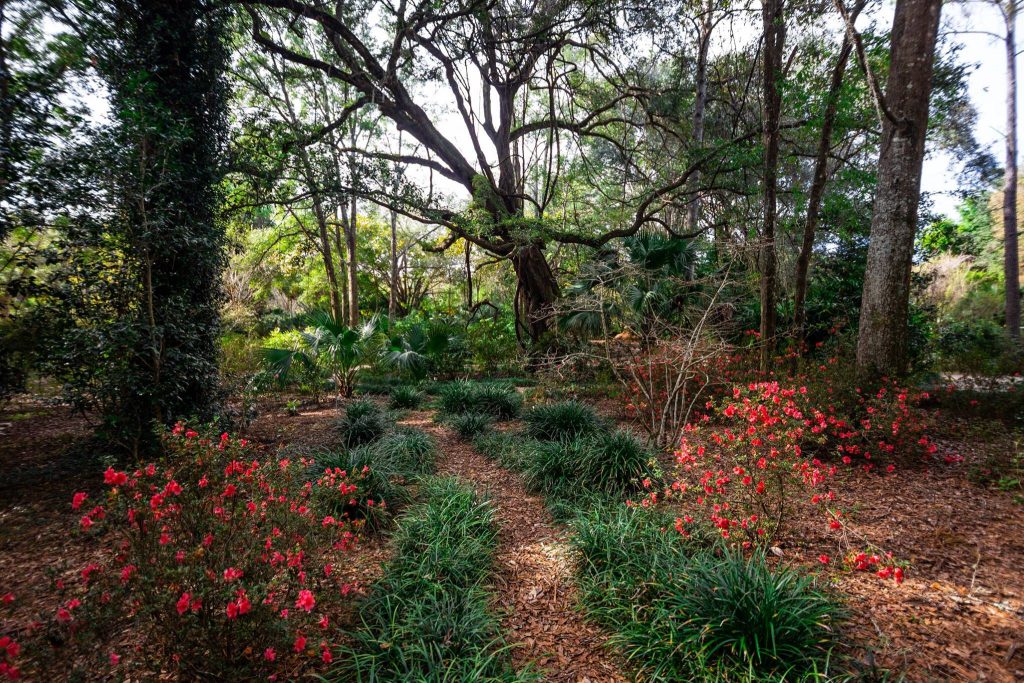 Kanapaha Botanical Gardens is the place to see Florida's native flora and more. The Azalea Garden is fantastic. They have the largest herb garden in the Southeast, and Florida's largest bamboo garden. You can follow the paved walkway and explore many different sections. At many points, step off the path to explore the many small sections with little waterfalls in ponds and koi you can feed. The garden has lots of sculptures and a colorful children's playground.
Devil's Millhopper Geological State Park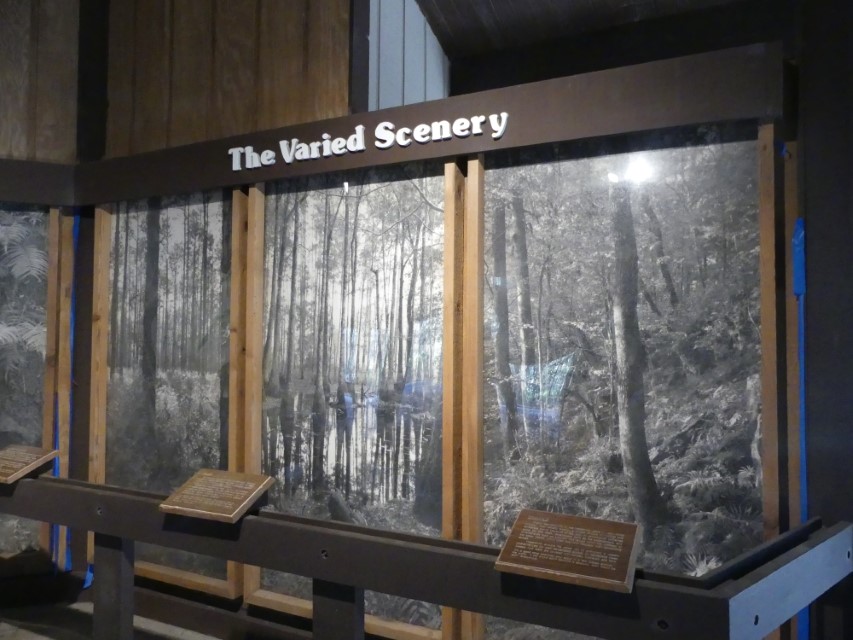 Devil's Millhopper Geological State Park dates to ancient times. Arrowheads found in the sinkhole show that native people visited the area since prehistoric times. Early settlers had a legend to explain the bones and fossils they found at the bottom of the sinkhole. They believed early people and animals would go there to meet the devil.
In actual fact, the millhopper pond is a tiny rain forest in a 120 feet deep sinkhole. The park has a pavilion near the entrance with placards telling the story of how it formed when the limestone underneath the forest collapsed.
Carson Springs Wildlife Conservation Foundation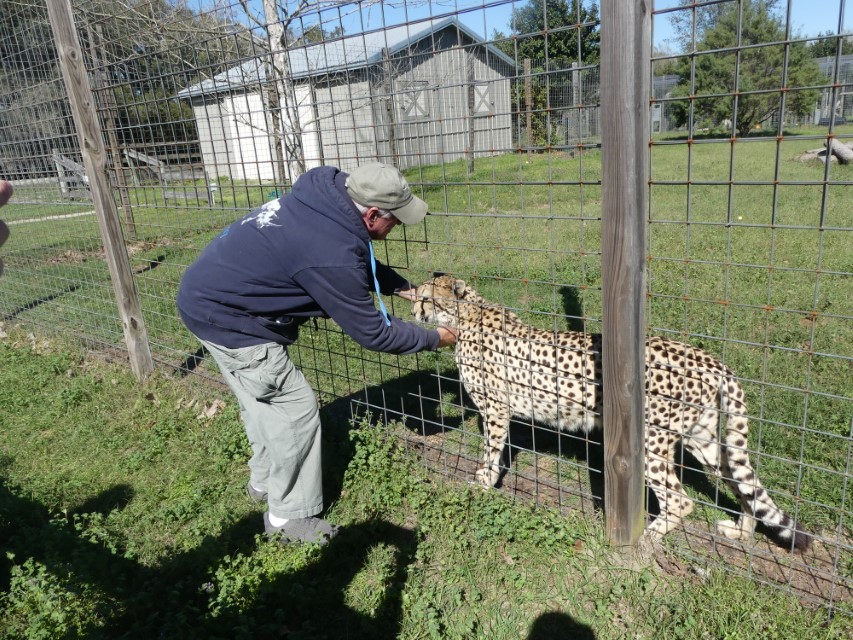 Carson Springs Wildlife Conservation Foundation is a wildlife treasure both for visitors and more than 100 animals who callit home. Christine and Barry Jenks, the owners, have rescued abused or unwanted big cats and other animals from zoos who no longer want them or from dangerous situations. They have members of 30 rare and endangered species.
You can take a walking tour, a riding one, or arrange a private tour where you get up close and meet the wildlife. There's Tank, their largest Bengal tiger, their youngest tiger, but he's about eight-feet tall. He shares a large enclosure with Tabitha, a rare golden tabby. And that is just a start. Your guide will take you to meet many other animals from big cats to otters. You learn their story and often watch them eat or play.
Dudley Farm Historic State Park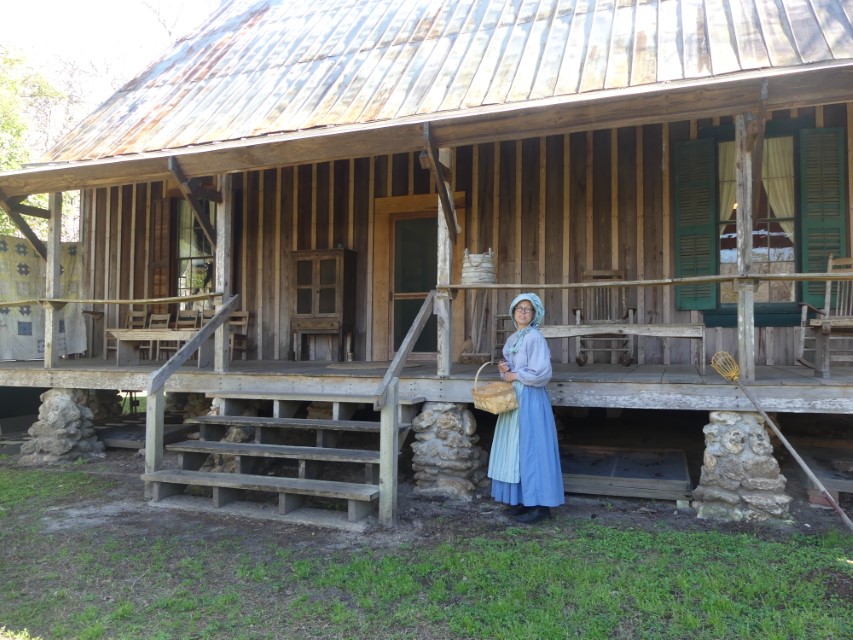 Just on the outskirts of town in Newberry, you'll find Dudley Farm Historic State Park. It's a living history authentic 325-acre "Cracker" farm. The farm began in Florida's pioneer era of the 1850s. Phillip Dudley and his wife, Mary, were the original owners of the farm. It passed down through his son, Ben, and his wife, Fanny, to their daughter, Myrtle Dudley, the last remaining Dudley who owned the farm until her death in January 1996 at 94-years-old. She donated it to the park service in 1983.
There's a museum with Dudley family artifacts when you first enter. When I visited, I enjoyed hearing the two musicians dressed in period clothing playing a fiddle and a banjo on the front porch. There are several historic buildings, including the commissary and gift shop, a blacksmith shop and lots of antique farm equipment up front.
Walk around to the back section and there is Dudley Farm. You can walk through the home Ben Dudley, built in 1880 or in a rocker on the porch. Behind the house you can pump water from the well with a hand pump and visit the The kitchen. It looks just as it would have been in the 1800s including docents dressed in period costume. You'll see free-range turkeys and chickens behind the house. Look out into the pasture and you'll see the Cracker horses and cattle grazing. It's like stepping back to a more peaceful time.
Bo Diddley Community Plaza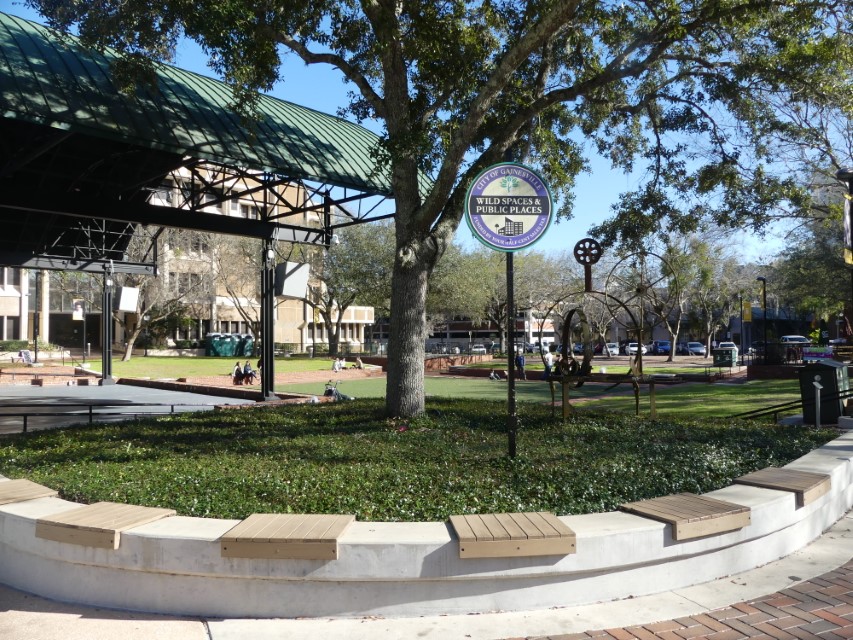 Remember I said, Bo Diddley lived here in his later years? The city named a plaza in his honor. Bo Diddley Community Plaza is across the street from the famous Florida Theater. There's an amphitheater and you will often find concerts and festivals happening here. There's plenty of green space and outdoor seating. It is also surrounded by some great restaurants.
Harry's Seafood Bar & Grille
My choice is Harry's Seafood Bar & Grille, housed in Gainesville's historic 1987 Opera House. Harry's Seafood Bar & Grille combines excellent dining with a touch of Louisiana. The three-story red-brick opera house, was a popular spot in the 1880s. You'll still see a few touches of the old building's history, inside. Outside, a plaque tells it earned a place on the National Register of Historic Places.
The food is fresh and delicious whether you choose the traditional Louisiana Boudin Balls made with Cajun sausage, rice and creole seasonings, then fried and served with house-made Remoulade. Or try Harry's Original Gumbo with shrimp, fish, smoked sausage, crabmeat, and crawfish. That's one of my favorites. Their Shrimp Po'boy is another New Orleans classic. Their French bread is as close as you can find to the real thing outside New Orleans. It's filled with fried shrimp topped with lettuce, tomato, and pickle and served with your choice of a side dish. I always choose red beans and rice.
I had the Banana's Foster for dessert. It's not flamed at the table, but still delicious, with sliced bananas sautéed in dark rum and banana liqueur, poured over vanilla ice cream.
4th Ave Food Park
Venture back into town and visit 4th Ave Food Park complete with an outdoor biergarten if you are looking for a big variety. There are multiple restaurants in the food park to please any taste. The biergarten in back has entertainment most weekends.
Fehrenbacher's Artisan Sausages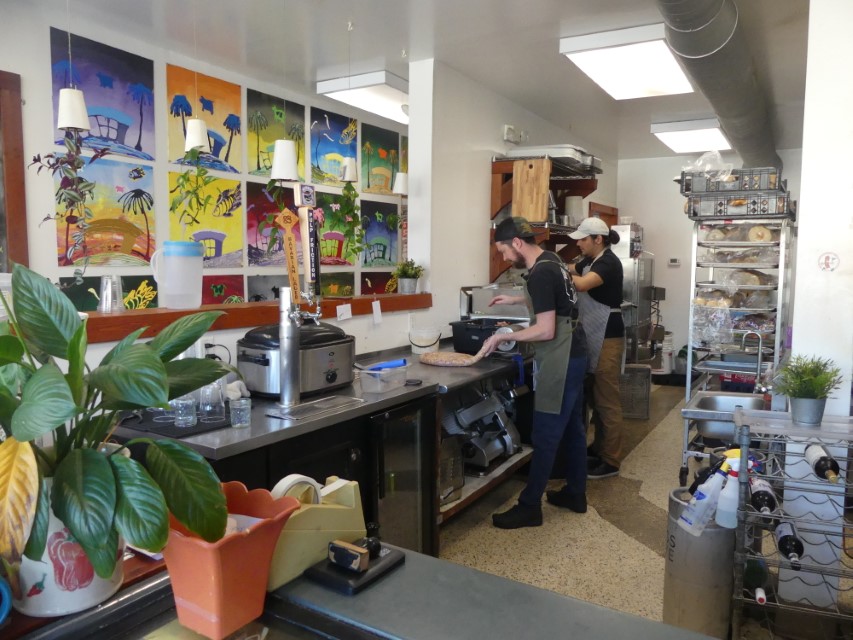 My favorite there is Fehrenbacher's Artisan Sausages. The owner, Adam Fehrenbacher, is a world class chef who has cooked in Paris, London, Vienna, and Munich but returned to Gainesville to open his combination deli, butcher shop, and retail store.
They make their own sausage right there. I enjoyed watching a man was making sausage. He fed in the meat into a grinder and filled the sausage skin, tying it off to make serving sizes. He used an assortment of spices to flavor the different types of sausage, ranging from Bavarian bratwurst, Andouille, ginger and sage sausage, and so much more. There's a different menu each day with a broad range from some of the sausages, to a charcutier board and even vegan or gluten-free choices.
I enjoyed my double hot dog with homemade chili, cheese, and fresh peppers out back in the biergarten.
Satchel's Pizza
For pizza, you can't beat Satchel's Pizza for both the food and the crazy decor, including a 1960s hippie van. He serves made-to-order pizza and their own homemade colas. You can dine in the van or under the antique airplane atop the back outdoor seating area and gift shop. Satchels is a Gainesville icon.
His pizzas are a work of art with crisp crust and a choice of over 30 toppings. You can even have it by the slice with your choice of toppings. Satchel brags that his pizzas are "Not charred but crispy. You can hold up a 16-inch pizza, and it's stiff."
You can add one of his salads to get your veggie fix with red and green mixed lettuce, apples, carrots, cucumbers, diced tomatoes, sunflower seeds, almonds, and a walnut or pecan. It's topped with Romano cheese and your choice dressing. You can get a calzone if you prefer.
His five flavors of handmade sodas are a work of art. I had his Lola Cola, and it was much better than the ordinary fountain coke.
Desserts are amazing. Our server brought us a printed menu along with a little 3D Viewer. One look at the Key lime pie slice, caramel apple cheesecake and cannoli. No way could I resist cannoli. Throw in chocolate and that's even more irresistible.
If you still want to see a 'gator, there are plenty of real-life alligators in Lake Alice and other waterways around Gainesville. See why I say there is something in Gainesville for everyone.