1. Meet Some of the Locals
Martin County may be best known for its beautiful beaches, pristine parks and rich cultural attractions. But more than anything else, it's the 
locals
that make this destination such a special place. Whether you're strolling the cobbled alleyways of Stuart, enjoying live music in Jensen Beach or soaking up the rays on a Hutchinson Island stretch of sand, you'll always be greeted with a smiling face ready to share what they love most about living in Martin County. So the next time you come to visit, be sure to strike up a conversation.
2. Attend an Award-Winning Festival
Martin County happens to host some of the best festivals in Florida. In fact, five of our annual festivals were ranked in the top 20 regional events by the Southeast Tourism Society.
3. Visit Jonathan Dickinson State Park
Nestled between Hobe Sound and Tequesta, Jonathan Dickinson State Park is one of Martin County's true natural treasures. Sprawling across 11,500 acres, it's the largest state park in Southeast Florida and a offers diverse array of natural habitats, including sand pine scrub, pine flatwoods, mangroves and river swamps. Each year, the Friends of Jonathan State Park and Club Scrub plan over 20 epic mountain biking and paddle events, providing an adrenaline-fueled escape for any outdoor enthusiast.
4. Follow the Treasure Coast Wine & Ale Trail
Feeling thirsty? Then don't miss out on the Treasure Coast Wine & Ale Trail! Spanning across Indian River, St. Lucie and Martin counties, the ever-growing collection currently includes 10 breweries, one winery and even a cidery. And be sure to pop into the trail's newest addition, Ocean Republic Brewing in Stuart.
5. Learn a New Skill
If one of your New Year's resolutions is to finally pick up that hobby you've been dreaming of, make it a reality. Have you always wanted to learn how to sail? Learn the ropes (literally) at the US Sailing Center of Martin County. You can also learn how to row with the expert instructors of the Treasure Coast Rowing Club in Palm City, or give stand up paddle boarding a try with the Friends of Jonathan Dickinson State Park.
6. Go Mural Spotting in Hobe Sound
You've probably heard of people painting the town red, but in Hobe Sound, every color of the rainbow is fair game. Launched by professional artist Nadia Utto in 2009, this creative "paint-the-town" mural initiative has led to the addition of more than 20 masterpieces sprinkled throughout the Hobe Sound community. This labor of love was brought to life by over 40 skilled regional artisans and hobbyists, along with approximately 100 individual residents and visitors.
7. Learn About Florida's Coastal Ecosystem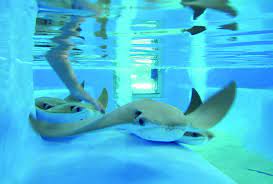 Learn more about Martin County's diverse coastal ecosystem by visiting the Florida Oceanographic Coastal Center, nestled on Hutchinson Island. Guests can explore the facility's aquariums, nature trails, butterfly garden and more. They also opened the new Ocean EcoCenter, which has brand new exhibits in five different galleries, a water play area for children, event spaces, and other cool features.
8. Explore the St. Lucie Inlet State Preserve Park
If you're in search of a quick escape that feels worlds away, plan an outing to St. Lucie Inlet Preserve State Park. The classic Florida barrier island is accessible only by water, so make sure to bring a kayak, canoe, paddleboard or hitch a ride on a boat. Spend the day swimming, snorkeling or slinking along the park's 4.2-mile kayak trail, which weaves through mangrove estuaries and maritime hammocks. Be sure to keep your eyes peeled for nesting turtles, wading birds, and other native species.
9. Stay at a New Hotel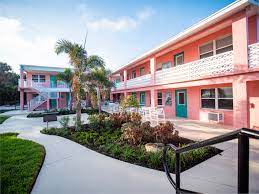 The 18-room Caribbean Shores Waterfront Resort recently unveiled its latest round of renovations, and those looking for a unique camping experience can book a stay at the recently-launched Adventure Platform Tents at Phipps Park and Campground.
10. Embrace Your Artistic Side During Artsfest
As one of the award-winning festivals mentioned above, Artsfest is always a highlight for locals and visitors alike. The Martin County Arts Council celebrated its 40th anniversary in 2020 and marked the momentous milestone with a special appearance by The Corning Museum of Glass. The 46-foot-long, 50,000 Mobile Hot Shop went to Stuart, where master glassblowers demonstrated the techniques and skill necessary to sculpt 2300°F sand into beautiful works of art.
11. Step Back in Time at the House of Refuge
The House of Refuge is not only one of Martin County's quintessential attractions, but it's also the county's oldest building. The ten Houses of Refuge were built along the east coast of Florida and served as safe havens for shipwrecked sailors. Today, the House of Refuge at Gilbert's Bar on Hutchinson Island is the only surviving structure. Pay a visit to the museum to get a glimpse of what life was like in Martin County during the turn of the 20th Century.
12. Meander Through Weekend Farmer's Markets
When it comes to agriculture, South Florida offers a whole lot more than citrus. See for yourself by stopping by one of Martin County's multiple farmer's markets where you can find the best seasonal produce, organic spices, freshly-baked pastries, homemade pickles, specialty foods, and countless other local favorites. Some of our top picks include the Stuart Green Market (every Sunday in downtown Stuart) and Barbour's Produce in Jensen Beach (open every day).
13. Enjoy an Epic Adventure
Sure, we have great snorkeling, challenging hiking trails and exhilarating horseback riding tours. But we also have more extreme adventure options for the ultimate thrill-seeker. To get your heart racing, tap the experts at Next Level Watersports to arrange a kiteboarding lesson or learn how to hydrofoil. Book a deep-sea fishing expedition with Chaos Fishing Adventures to hook sailfish, mahi and wahoo. Or, go on a night dive with Stuart Scuba to discover an underwater world of wonder.
14. Catch a Live Show in Stuart
Anybody who has ever visited Stuart has most likely taken note of the Lyric Theatre, one of the city's most iconic landmarks. Built in 1926 and added to the U.S. National Register of Historic Places in 1993, it was originally used as a movie house by Martin County residents. Today, it serves as a stage and music venue that attracts top-notch talent from across the globe. Check their ever-rotating calendar of shows and events to catch an entertaining performance you won't soon forget.
15. Navigate the Scenic Blueway Trail
The newly-minted Scenic Blueway Trail is an ideal activity for water-lovers of all ages. The Martin County paddling trails span 37.7 miles over two river systems: the Indian River Lagoon (16.2 miles long, stretching between Jensen Beach and Hobe Sound) and St. Lucie River (21.5 miles, extending from the Halpatiokee area to sites near toward the St. Lucie Inlet). Just find one of the eight public launch or stopover sites to experience it for yourself.
16. Uncover Martin County's Rich Historic Legacy
Visiting with a history buff? Martin County is teeming with cultural and historic landmarks that make our home a truly one-of-a-kind destination. Journey back in time to a bygone era by touring some of the region's most storied attractions, like the Mansion at Tuckahoe and Captain Henry Sewall's House in Jensen Beach. Some other Historic Preservation sites include the All Saint' Episcopal Church (1904) in Jensen Beach; Indiantown's Seminole Inn (1926); and the New Monrovia One-Room Schoolhouse (1930) in Port Salerno.
17. Make a Splash and Soak up the Sun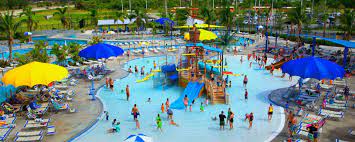 Don't get tricked into thinking you need to drive all the way up to Orlando for a wet-and-wild waterpark experience. Stuart is home to Sailfish Splash, a state-of-the-art waterpark that first opened in 2012. Some of the complex's most popular features include a 1000-foot lazy river; a four-story tall water slide; a 253-foot speed slide; a 7,326-square-foot water playground; and private cabanas.
18. Spend the Day Museum-Hopping
In addition to pop-up art events and festivals throughout the seasons, Martin County offers an array of fascinating museums that are open all year long. Plan a day of museum-hopping to better acquaint yourself with local artists and see the impressive collections housed all over the county. Some visitor favorites include the Elliott Museum (known for its antique automobiles, vintage boars and baseball collection); the Children's Museum of the Treasure Coast (located in the heart of Indian Riverside Park); the Stuart Heritage Museum (filled with forgotten relics from yesteryear); the Road to Victory Military Museum (featuring military vehicles, weapons demonstrations and historical wartime artifacts); and the aforementioned House of Refuge and Museum at Gilbert's Bar.
19. Hit the Green
Channel your inner Jack Nicklaus and spend an afternoon putzing around one of Martin County's beautifully manicured golf courses. Some of the more challenging courses include Hammock Creek Golf Club in Palm City; Willoughby Golf Club in Stuart; and Lost Lake Golf Club in Hobe Sound. Youngsters will also get a kick out of a round of mini golf at 76 Golf World in Stuart. And the Martin County Golf Course is currently being redesigned to offer more of a golf experience (on par with the likes of TopGolf or BigShots) and is set to reopen sometime next year.
20. Most of all – Relax and enjoy your Extended Weekend Getaway!