Hartford, the state capital, is perched on the Connecticut River, which approximately bisects the state from north to south and is accessible from interstate highways 91 and 84. The city has some wonderful historic buildings, such as the Old State House; the Center Church, with stained glass windows by Louis Tiffany; and the Wadsworth Athenaeum, a castle-like structure that, among other delights, has a refurbished sculpture garden and a collection of many fine paintings of the Hudson River School of art.
A must-see, both for its own charm and for the man who commissioned it, is the home of Mark Twain. This eclectic, 19-room home, where Twain wrote some of his best-loved classics, is full of curious features and is right next door to the Harriet Beecher Stowe Center, where history is connected to today's events. Other favorite places to see in this central region include Gillette Castle in East Haddam, the Old New-Gate Prison in East Granby, the New England Air Museum in Windsor Locks, and the Goodspeed Opera House in East Haddam. Lodgings are as varied as the landscape.
The Connecticut River Valley is also the historic location of tobacco fields with their characteristic open-air barns. These make good subject for photographers on leisurely rides through the valley. When it comes to lodgings, inns and bed-and-breakfast establishments are nestled in the rolling countryside and in scenic villages. Hartford and the larger towns feature fine full-service hotels. And at highway exits are many comfortable chain hotels with nicely priced accommodations.
Explore the beautiful home of Mark Twain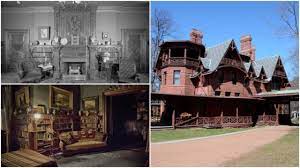 Explore the beautiful home of America's favorite author which was featured in 1000 Places To See Before You Die. Take guided tours through Mark Twain's historical home, visit his personal library, the children's rooms, the servants' wing and his famous Billiard Room where he wrote The Adventures of Tom Sawyer and Huckleberry Finn. Enjoy informative exhibitions and documentaries held in the Museum Center, visit the museum store to discover one of a kind treasures, or grab a relaxed lunch in our Nook Farm Nook cafe. House tours run daily beginning at 9:30 A.M. with the last tour leaving at 4:30 P.M., while the Museum Center is open for self-guided visitation during regular hours.
Don't Miss the Harriet Beecher Stowe Center in Hartford's Nook Farm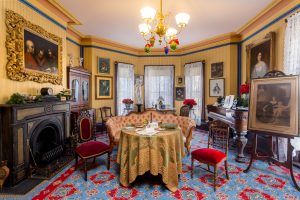 Nineteenth century Hartford was an intellectual mecca for writers, publishers and social thought leaders. Harriet Beecher Stowe came to Connecticut's capitol city as the most famous American women in the world. Her landmark novel
Uncle Tom's Cabin
, published in 1852, set the world on fire and helped to escalate an international groundswell of opposition to the enslavement of people in the United States. Stowe's Hartford home was her residence for 23 years. The Stowe Center uses the story of Stowe's life to inspire social justice and positive change, with a 21st century tour experience using the historic collections to "paint a picture" of the significance of Stowe's impact and to engage visitors in connecting Stowe's history to today's headlines. Open year round, check website for tours, programs and events (Park once and visit both Stowe and Twain with a combination ticket).
Bushnell Park on Trinity Street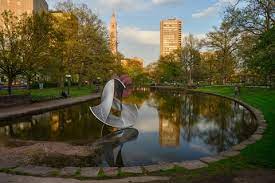 A wonderful public sanctuary that merits a full-day visit. The park is home to a
carousel
that dates from 1914 – the golden age of these structures that combine artistry, magic, and simple fun. Created by Russian immigrant craftsmen, the carousel is notable for the horses' flamboyant faces and real horsehair tails. Besides the 48 horses, there are two lovers chariots, 800 twinkling lights, 24-sided pavilion houses, and a Wurlitzer band organ. A dollar will buy you a three-and-a-half minute ride of dreams. Hours: Friday through Sunday, from 11 a.m. to 5 p.m. Rides are $1.