By Kathy Condon/Freelance Travel Writer
Located in Central California, near the Nevada border, this spectacular place offers a plethora of sports activities. Visit Yosemite/Madera hosted me for this visit, but I trust you will appreciate my opinions and observations.
Sports Choices
Hiking – Who hasn't seen the outstanding views on social media from the top of Yosemite Falls, El Capitan, and numerous viewpoints posted by those who venture up one of the trails, which extend over 750 miles throughout the park?  The trails travel through
various ecological zones, vary in length, and offer a variety of physical challenges. Keep in mind that many of the trails are closed during the winter months.
Boating – Tenaya Lake is one of the more popular lakes for its clear water and spectacular scenery. With 2,000 plus lakes scattered throughout the park, many are nestled in valleys and accessed down unpaved roads. A visit here makes it a place even reluctant boat passengers feel thankful they were talked into spending the day exploring the area.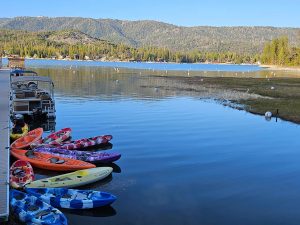 Kayaking – In front of Forks Resort, colorful kayaks wait for someone to rent them. Kayakers paddle along the lake banks and inlets and are often rewarded with wildlife sightings.
Biking – Admittedly, except for the Valley floor, biking throughout the park is not for the amateur. The roads are narrow and winding, especially from the Big Oak Flat, the south entrance. Even driving them in the car is not for the faint of heart. The paved road hangs on the mountain's very edge in many areas. With 25 miles of road until you reach the Valley floor, you will want to be in excellent physical condition.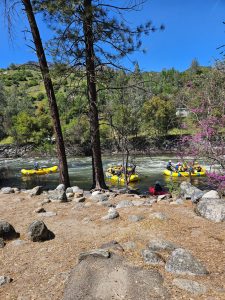 River Rafting – Have you always wanted to try river rafting? With two rivers, the Tuolumne and Merced, here's your opportunity. Tours are available with experienced guides who know what to watch for on these designated wild and scenic rivers.
Oakhurst A Special Place Near the Park
This unincorporated area will surprise anyone who takes the time to stop, stay and dine. While people tend to stay in Fresno if they are headed to Yosemite, there is a much closer welcoming community with every amenity you desire. Located 16 miles from the park, Oakhurst area is thriving.
The Queen's Inn was a special place to serve as my home for three days. The Inn has twelve rooms fully renovated by lovely women owners, Anna Marie Dos Remedios and Deb Payne. A frog choir sang me to sleep at night, for the Inn is perched on the Fresno River's bank.
You might be surprised that numerous hotels in this community stretch along California State Route 49. However, reservations should still be made in advance, for this community will continue to be discovered.
Dining
Located on the Queen's Inn grounds, Vintner Anna Marie Dos Remedios is the chef or advises the chef on preparing the farm-to-table daily specials at the Idle Hour Winery & Kitchen. Diners can request a recommendation for a pairing of Idle Hour wines created from single-vineyard designated wines from Monterey.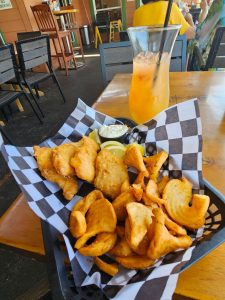 Consider Ducey's on the Lake if you want to dine with a spectacular view of Bass Lake. In the words of locals, "Yes, we come here often for it is a beautiful view, but we use every excuse we can to come here for the food is excellent." I can attest my fish and chips were superb and plentiful, leaving me regretting I wasn't near my air fryer so I could reheat leftovers for another meal.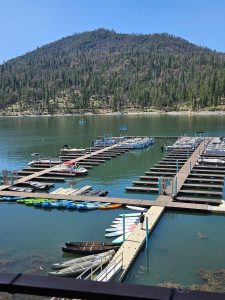 The thought of alfresco dining called me to the Forks Resorts, run by a 5th generation family on Bass Lake. It is known for its "Forks Burger," made with quality beef, which you create with your favorite condiments. Adjacent to the indoor dining area is a general store with everything from a fishhook to padding for your knees if you traverse the country roads on a bicycle. You can also purchase a fishing license here if you get the urge to fish.
South Gate Brewing Company is known for its 16 oz Smoked Ribeye. While it sounded delicious, I couldn't imagine eating a steak that large. Admittedly, I had already spotted a root beer float (made with root beer made on the site) on the dessert portion of the menu. I opted, instead, for Beet and Ricotta Salad. I was delighted with my choices, which I enjoyed while viewing the mountains through their enormous restaurant windows.
Deli Delicious is the perfect place to pick up the fixings for a picnic on your Yosemite adventure. The cranberry turkey sandwich was so good that I stopped there to get another one for my trip back to Palm Springs.
History
Fresno Flats Historical and Village Park, with seven buildings, serves as a unique destination to learn about 19th-century life in the mountains of Central California. The actual buildings were moved to the site, one of which was 15 miles away.
Even more impressive, each building is filled with objects used during the period. Volunteers proudly lead tours and demonstrate how the various things were used. Thus, this location is an educational resource for local schools to bring to life the surroundings their grandparents experienced during their lifetimes.
In addition, this place has a beautiful gazebo surrounded by flowers making it a unique venue for weddings, family reunions, and musical events. The old schoolhouse on the site is a community gathering place for special announcements and lectures.
The Yosemite Gateway Art Center
It is well known that Yosemite attracts artists from all over the world. Yet, few people know many of the artists have settled in Oakhurst. Not only are they close to Yosemite, but the location also allows them to capture the foothills of the Sierra Nevada Mountains any time of the year.
The Yosemite Gateway Art Center is on Scenic Route Highway 49 in a former strip mall. Fortunately, the sign on the highway alerts you of its location; otherwise, it would be easy to zip by, for it is on the east end of the retail area of the community.
A confession, I went there twice, for I was enthralled with the five galleries, each of which is a former store. The galleries have a different genre of art and an inviting atmosphere that encourages one to slow down and browse and relax. One of them displays works by artists from all over the world who entered a juried art competition showing their depiction of the Yosemite/Madera area.
Oakhurst, California, may not be on people's bucket lists, but it should be, for it has much to reveal if you look closely. With only 25 minutes to Yosemite's entrance, planning a day visit allows you to get ahead of the Fresno travelers. After a day of exploring, you will have many dining options and be glad your bed is nearby, enabling you to rest and prepare for the next day's adventures.