By Kathy Condon
Journalist & Travel Writer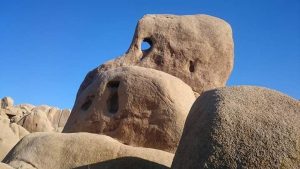 This 800-acre national park has 79 miles of paved roads where one can get up close and personal with the Cholla Cactus Garden and rock formations such as Skull Rock, made of granite called Monzogranite has been the subject of hundreds of thousands of photos. Yet, there is much more to explore outside the park's borders.
The Joshua Gateway Communities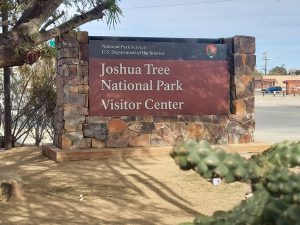 Joshua Tree Gateway Communities is attributed to an area from Morongo Valley to Twentynine Palms, California. By car, this area is connected by Highway 62, a 40-mile stretch that makes it easy to stop and explore some of the attractions that make a visit to the everchanging area attractive. Morongo Valley, Yucca Valley, Joshua Tree, Landers, and Twentynine Palms is within its boundaries.
Cactus Mart In Morongo Valley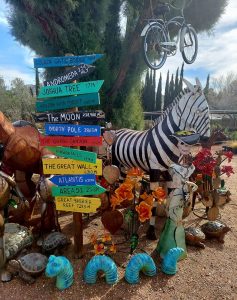 Frankly, I can remember only one time I headed up this area from Palm Springs, and I did not stop at the Cactus Mart, for it is more than a fascinating place. Locals come here for their hardware store needs, but people like me come here to explore the greenhouse, the gardens, and the gift shop, which always has a way of coaxing me to leave some funds there, for there are so many unique items.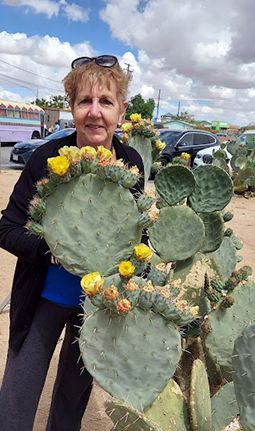 Just about any cactus you ever thought about wanting to own can be found here. The" Dig Your Own Bar" offers a large variety of cacti that are only 1 to inch high for 79 cents each. They will teach you how to replant or direct you to similar cacti in a larger size if you choose.
Gubler Orchid Farm in the Hi-Desert
It is one of Southern California's largest suppliers of orchids. When you ask residents of Palm Springs, "Have you been to the orchid farm in the hi-desert?" they look at you with disbelief. Who would ever dream that orchids would grow in the desert?
Yes, you can buy orchids. The array of varieties and colors of orchids is astounding, and you will learn how to grow these stunning flowers. Gubler Orchids offers tours of their six greenhouses. One of the greenhouses includes some ancient cacti that are part of the family's collection.
Integratron A Place to Relax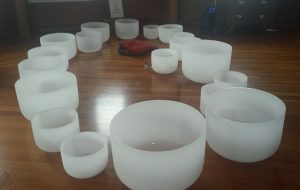 The Integratron dome is entirely wood, 38 feet high, and 55 feet in diameter, and is considered acoustically perfect. Today, hundreds of visitors come to the grounds to relax or partake in a sound bath offered Thursday through Sunday. Reservations are necessary.
If you have never experienced a sound bath, it is a therapeutic process for the whole body. Tibetan singing bowls are played, followed by taped chamber music. Through full-body listening, you become very relaxed as you lie on mats. From my three times experiencing a sound bath there, they have never been the same.
Joshua Tree Cultural Center
Open on May 3, 2023, in Twentynine Palms, California, the Joshua Tree Cultural Center looms large in the newly created Freedom Plaza. A partnership between the City of Twentynine Palms, Joshua Tree, Joshua Tree National Park, the Bureau of Land Management, and the Native American Community came together to provide a community gathering place while serving visitors.
Visitors can gain insights into the area's history through informative exhibits, curated museum artifacts, and a variety of books on the area. Check their calendar for special events, including lectures.
The 29 Palms Art Gallery and Guild
Keep your eye open as you head to the North entrance of the Joshua Tree National Park for the 29 Palms Art Gallery and Guild. The gallery is the oldest in the Joshua Tree Gateway Communities, located at the Oasis of Mara in Twentynine Palms in an adobe building built in 1936.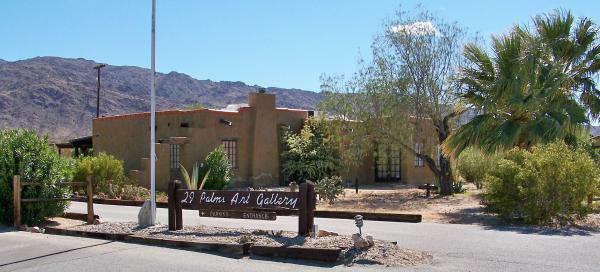 This well-appointed gallery is owned by the Guild, a non-profit, and staff with volunteers. Monthly exhibits highlight artists of the area and are highlighted in juried art shows. If you want a souvenir to remember your trip, the art is available for purchase, and the gift shop showcases some talented jewelry and wood craftspeople living in the area.
Shopping in the Area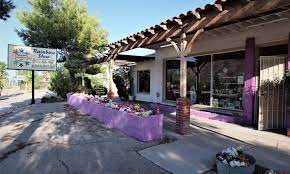 If you are looking for antiques, there are numerous places to stop and browse for everything from vinyls to vintage clothing. For example, even the 75-yard crinoline popular in the 60s can be found in the stores scattered throughout the area.
If you are looking for spiritual material, you will want to stop at Rainbow Stew in Yucca Valley. A fascinating store with everything from beautiful clothing to hard-to-find spiritual books.
Dining in the Area
There are three restaurants in cities in the area that I enjoy for varied reasons:
Yucca Valley- Las Palmas Mexican – I highly recommend the restaurant if you are craving Mexican food. I am an aficionado of Chile Relleno; thus, I use any excuse to stop here.
Joshua Tree – Joshua Tree Saloon – My appreciation of this restaurant started when a friend introduced me to deep-fried pickles. This western-style restaurant serves up great barbecue with my favorite pulled pork sandwich.
Twentynine Palms – GRND SQRL – This is a funky restaurant with made-from-scratch food and an assortment of craft beers. From my experience, you cannot go wrong choosing from their daily and weekly specials.
Whether you choose a day trip or want to stay for a while, The Joshua Tree Gateway Communities have a plethora of activities to keep you intrigued. I suggest you head up there, take your time and explore this unique area that attracts over 3 million visitors yearly.