By Robin (O'Neal) Smith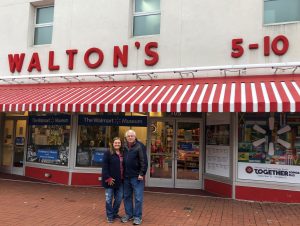 Walmart has been around for quite some time, and I sort of took the store that has about everything for granted until last month. In October, my husband and I visited Bentonville, Arkansas, and the Walmart Museum. We were fortunate to have a private tour of the museum that allowed us to view areas not open to the public. I enjoyed the visit so much; we returned the following day for a second visit to go through and read everything and shop in their gift shop.
How Walmart Got It's Start
On July 2, 1962, Sam Walton opened up his first store in Rogers, Arkansas. He was a man ahead of his time, and he quickly grew from a tiny town store to becoming an international corporation with a net worth of over $405 billion! Sam Walton used some clever marketing techniques to help grow his business into what it is today.
Sam Walton made many contributions to our country, including helping families save money on their groceries. The mission statement for the business is "Saving people money so they can live better."
He created "Walmart," which is now one of the world's largest companies with over 11,000 stores worldwide. Sam once said, "When customers thought of Walmart, they should think of low prices and satisfaction guaranteed.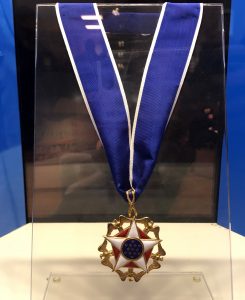 Sam Walton received the Presidential Medal of Freedom from President George H. W. Bush. The medal is on display in the museum. His entrepreneurial spirit should be an inspiration to us all!
History lovers will get a kick out of visiting the unique museum. It is full of all sorts of fun facts about the company that started out as Walton's Five and Dime! Visitors can learn about Walton's values and principles that led to his success with Walmart.
Interesting Walmart Facts
1. Walmart is the largest corporate employer in the world.
2. There are 11,443 stores worldwide and 2.3 million employees
3. Walmart generated 559 billion in revenue last year. In fact, according to QuerySprout, On average, Walmart makes a whopping $17,000 per second, $1.1 million per minute, and $68 million per hour in-store sales!
4. Wal-Mart is an international company with stores operating in 24 countries outside the U.S.
5. Some of the most popular items sold at Walmart include electronics such as televisions or laptops as well as clothes for all occasions and age groups.
The Walmart Museum
If you are visiting the northwest corner of Arkansas, be sure to visit the Walmart Museum. It's located in Bentonville, Arkansas – less than an hour from Fayetteville or Rogers, Arkansas, and just about an hour from Eureka Springs, making it easy to visit on vacation or for work! The Walmart Museum is a fun and quirky museum with a leisurely tour, no steps involved, and flat walking areas. It is entertaining, and you get a chance to see how the retail giant has evolved over time from a small one-room store to the mega-giant it is today.
Reasons to Visit
If you need some reasons to visit, here are a few: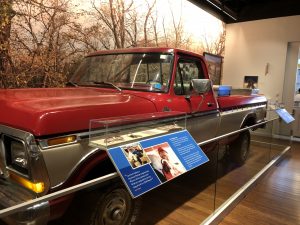 The museum is free.
There is no charge to visit; they only ask for your zip code to track where visitors reside.
Walk Through History
The museum takes you through the Wallmart history timeline, from its humble beginning to its current status as a leading retailer.
A Movie is Included
You can sit down and watch a short video about Sam Walton and Walmart. It only takes about 10 minutes to watch it entirely.
Interactive Displays are Entertaining
There are interactive displays throughout the museum that show how Walmart has changed over time.
Walmart Employees Are Honored
If you are a Walmart employee and you let them know when you arrive, they often honor you with a small token of appreciation.
Artifacts on Display
There are artifacts from Sam Walton's life and career on display. His office, desk, etc., are included, his wife's wedding dress, and other memorabilia are included.
Considered A Top Company Museum – According to Mental Floss, it is one of the Top 10 Company Museums to visit.
Photo Opportunities – There are several photo opportunities, including having your photo taken with Sam's pickup truck
Editor's Note: Robin O'Neal Smith is a freelance and travel writer. A young baby boomer, Robin and her husband have traveled throughout North America, many of the Caribbean Islands, and Europe. She loves cruising and inspiring others to live their dreams of travel. Follow her travels on her personal site at https://robinonealsmith.com/