By Susan D. Ferrier
Freelance Travel Writer
BeansBikesandBlooms.com
In recent years, e-bikes have grown in popularity because they remove some of the barriers to entry. Bentonville's nearly 150 miles of dirt single-track trails across seven trail systems, plus many more miles of gravel trails are a perfect place to become acquainted with these pedal-assisted bicycles.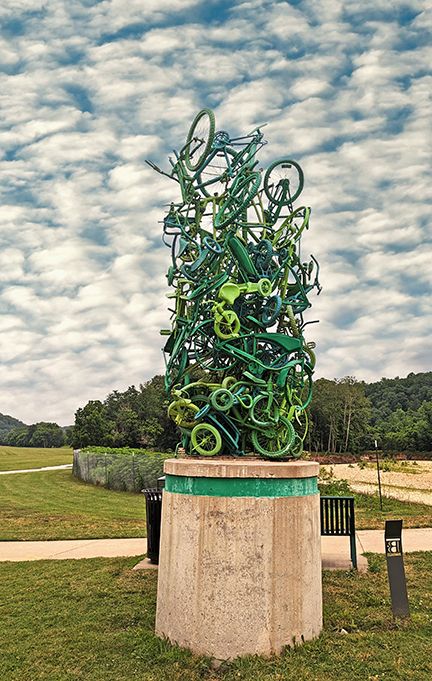 And e-bikes aren't only for the novice rider. Frequently, experienced riders opt for one when riding the Oz Trail System because they know it will allow them to explore more of scenic Northwest Arkansas.
If you are up for the challenge, start by renting an e-mountain bike from Encore Bikes. They will deliver the bike and pick it up at the end of your visit. Meaning you will have access to the bike whenever you want to ride.
Before setting out, new mountain bikers and those who haven't ridden in a while should get some instruction on navigating over roots and rocks, cornering, and general bike safety. Bike School Bentonville offers instruction for riders of all ages and abilities. They will have you riding the trails with confidence in no time.
Mountain biking uses a ranking system to rate the difficulty of trails. Green trails are the most beginner friendly, blue are intermediate and black diamonds are the most challenging.
The downhill trails in Bentonville are set up using a "hub" system. This means you will bike to the top of the hill where trails radiate out like spokes from the "hub." While you can find some green trails, often these gravity trails are faster and more difficult.
Whether or not Bentonville earns its monicker as the "Mountain Biking Capital of the World" is probably debatable. But it is designated an IMBA Silver Level Ride Center, a classification given to destinations that "feature extensive trail networks, masterfully designed for mountain bikers of every skill level and built by professional trailbuilders and local volunteers."
Slaughter Pen's 40+ miles of trails are easily accessed from town at the entrance to Compton Gardens. The trails wind through the gardens and past Crystal Bridges Art Museum, which has 5 miles of art-laden bikeable trails of its own.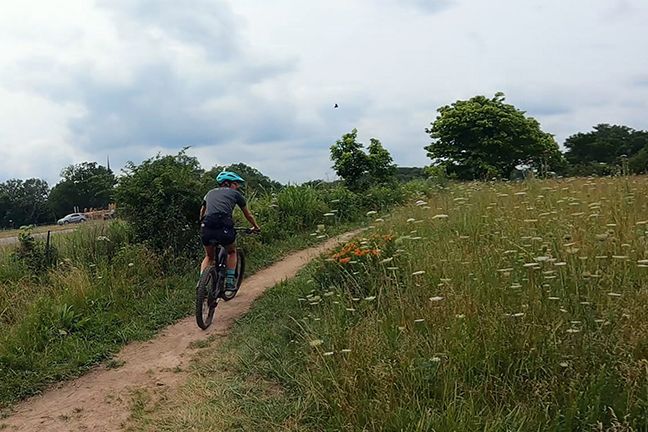 Beginners might try the All-American Trail. This family-friendly trail runs parallel to the Razorback Greenway, a 40-mile paved multi-use trail. Should you decide that trail riding isn't for you, then jump onto the greenway and enjoy the ride.
If you want a bit more challenge but want to stay within your skill level, then try Black Apple Creek. This trail offers tranquil scenery, streams, fern gardens, and a bit of climbing.
Situated about 1.5 miles outside the town is Coler Mountain Bike Preserve.  This trail system is simply outstanding. Here you will find some crazy-fast downhill runs, but beginners and families can enjoy the trails as well. Some favorite beginner trails include Family Flow, Good Vibrations, and Esther's Trail.
As you cross the bridges near the south entrance, listen for the "singing" bridges a sound art installation by Arkansas artist Craig Colorusso. A short distance into the preserve you will find Airship Coffee, an open-air cafe where people gather to enjoy a beverage or their amazing nachos.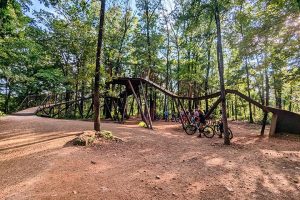 Still not sure about the prospect of mountain biking? Then skip the dirt trails and ride the paved Razorback Greenway Trail. Riding north from Bentonville will provide a scenic and easy ride.
The infrastructure along the bike path provides restrooms, water stations, bike repair stations, and picnic and seating areas. Additionally, you can marvel at bike-themed art installations along the way.
At mile 40, you can hop onto the 3-mile out-and-back Blowing Springs Greenway Trail. Past the campground, there's an area with picnic tables. Kids can climb the rocks and listen to their voices echo into the caves or catch crawfish in the crystal-clear spring-fed stream.
The trail is also the gateway to Blowing Springs Arboretum. Along this path, you'll find the Gear Gardens, a popular gathering spot for cyclists where you can grab a cold beverage and enjoy live music.
Without a doubt, one of the best ways to explore Bentonville and NW Arkansas is on two wheels. Off-road biking doesn't have to be intimidating. Hopefully, the idea of using an e-bike removes some of the hesitation and you will add it to your itinerary.
Susan has a passion for travel, gardens, recreational cycling, and a love of caffeine. Her travels have taken her to 32 states and 22 countries on five continents.