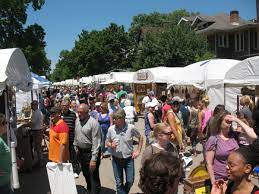 There will be more than 200 artists from across the nation, this juried art fair continues to be ranked as one of the finest fairs in the country.
This is a family-friendly event with a wide range of artist styles and mediums for all to enjoy. You will find various works of art in mixed media, sculpture, wood, glass, clay, fiber, metal, jewelry and photography on exhibit. Interact with the artists as they are always present during show hours and become familiar with their individual style and talent. Examine the fine quality of their work displayed and offered for sale.
The Talbot Street Art Fair is located between 16th & 20th Streets in the historic Herron Morton Neighborhood in Indianapolis. It is the oldest, largest, juried show in the area. It is listed as one of the top 100 Fine Arts shows in Sunshine Artist Magazine. The fair has been established as a top-quality, juried art exhibition of fine arts and fine crafts.
Show hours are 10 a.m. to 6 p.m. Saturday and 10 a.m. to 4 p.m. Sunday. There is always free admission for visitors. Food vendors will also be present to help fill empty tummies.
         For a complete list of the participating juried artists, please visit: www.talbotstreet.org