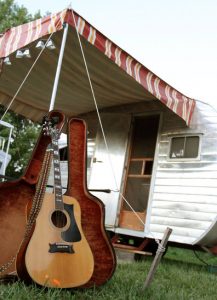 OWENSBORO – Join us for 4 days of music and nature at the beautiful Yellow Creek Park! Situated on over 150 acres, the park offers sweeping treelines, hiking trails, a spray park, lakeside camping, and more. Details about RV and tent camper entry will be sent soon and will contain info for those who want to arrive when gates open.
Camping is on a first-come, first-serve basis. We highly suggest you get to ROMP as soon as you can. Tent Camping is a flat-rate fee of $25 per person. RV Camping is $165 per RV and includes everyone staying in the RV. We describe RVs as anything on wheels in which you plan to sleep. VIP tickets include both RV and tent camping. In addition to a camping pass, everyone must also have a ticket to the festival. RVs need to arrive before 8 pm to get assigned a spot. We do not to park RVs after dark, approximately 8 pm. Tent campers arrive and set up until gates close at midnight. Please use caution and drive very slowly if arriving after sunset.
One-Day and Two-Day campers will have a specific area in which to camp. You must be out by 11 a.m. the following morning. Tent campers will be allowed entry on Wednesday, June 22nd at 10 am. Tent campers can arrive until gates close at midnight. For more information on camping at this festival, visit https://rompfest.com/camping-info.