The Festival features Circus Acts – City Bands – Carnival Rides –
Food and Craft Vendors – Parade Saturday
Ladies and Gentlemen, Children of All Ages, Welcome to Peru, the Circus Capital of the World and the home to the Peru Amateur Youth Circus and Circus City Festival, Inc.! Join in the fun to help celebrate the Circus Heritage with great family entertainment in the American Tradition. Ten top-notch circus performances are scheduled during this year's annual Circus City Festival  You will see more than 200 young people, ages 7 to 21, ready to entertain you with their breathtaking stunts. Kiddie, Junior, Adult Clowns, Circus Band, plus a huge number of volunteers who join together to support these talented performers.
These beautifully-costumed young performers are so skilled that circus fans find it hard to believe they are indeed still considered amateurs. So many get their start here in Peru with the trainers available and then join a professional traveling circus as their chosen career. The museum within the circus arena facility located downtown tells the stories of some of those who moved on in their quest to make a name for themselves in the Circus Hall of Fame and succeeded.
The museum and a gift shop are both located in the same building as the comfortable air‑conditioned three‑ring circus arena. They are open year-round. Dating back to the late 1800s, many of the country's most famous circuses over-wintered a few miles southeast of Peru. That area is now home to the famous International Circus Hall of Fame.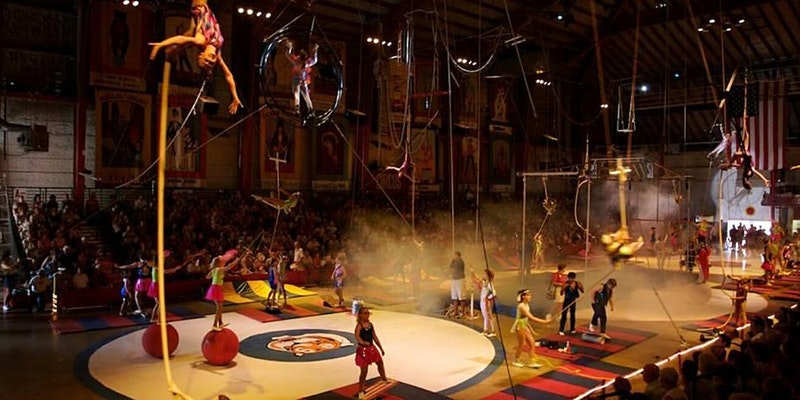 Among other activities during the festival, enjoy the rides, delicious food, games and more on the main streets of Peru. For the grand finale, Peru's own Circus City Parade, one of Indiana's largest parades, steps off on the final Saturday. Music will be provided by the CCFI Band under the direction of Diane Haley, Scott Thompson, Jarrod Ellis and Mike Keller. Miss Circus City and her court preside at all circus performances and participate in the Circus Parade.
Performance tickets are available online at eventbrite.com for $6-18. As time passes to the second weekend, the rates do rise. So be sure to order now before they are sold out. May all your days be circus days! For more information, visit https://www.perucircus.com/
Schedule 
SATURDAY- June 16th   2 & 7 p.m.
SUNDAY- July 17th   3 p.m.
MONDAY- July 18th  7 p.m.
TUESDAY- July 19th  7 p.m.
WEDNESDAY – July 20th  7 p.m.
THURSDAY- July 21st  7 p.m.
FRIDAY- July 22nd  7 p.m.
SATURDAY- July 23rd   2 & 7 p.m.