In the early 1800s, a man named William Conner lived in a log home near the White River with his Lenape Indian spouse, Mekinges, and their six children. To make a living, he bought furs from Indians who trapped the rich forests of Indiana.  His descendants sold his land in 1871. The land went through several owners until purchased by Indianapolis businessman Eugene Darrach in 1915. During that time, the house in which Conner lived underwent many changes.
In 1934, Eli Lilly, then president of pharmaceutical company Eli Lilly and Co, bought the 111-year old structure.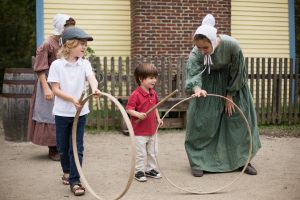 Lilly believed history was an essential cornerstone of American democracy and immediately began using it as the centerpiece for historical re-enactments to connect people with history in ways books could not. A champion of education, Lilly opened the house and surrounding land to the public so people could see their heritage brought to life.
That was first phase of Conner Prairie. The second phase began in the 1970s when museum director Myron Vourax worked with renowned folklorist Henry Glassie to create a living history museum, a place where the staff dresses, acts and speaks as if they were currently living in the mid-1800s. What's now known as 1836 Prairietown opened.
Today, Conner Prairie is a place where families engage, explore and discover what it was like to live in Indiana's past. Every visit is a unique adventure that provides an authentic look into the history that shapes us today.
CHAUTAUQUA
June 9
What are historians to make of this cultural fascination with cross-dressing? Join Conner Prairie as we welcome public historian Susan Ferentinos to consider what factors may have contributed to such interest and explore what insight the past can offer the present. Enjoy a complementary cocktail, light appetizers, and fun history.
One time only, this event is 16+
June 11
Conner Prairie and the Fisher's Arts Council welcome you back for a beautiful afternoon outdoors. Browse and shop the creations of local artists and artisans, enjoy live music, and more.
EXPLORE THE ARTS: BONGO BOY MUSIC SCHOOL
 June 17
Bongo Boy Music School will facilitate 6 drum circles for guests of all ages. No experience necessary! This is a hands on experience. Come share your groove!
For more, call (317) 214-4481 or email catering@connerprairie.org.
SYMPHONY ON THE PRAIRIE
From June 24 trough September 4 at the Conner Prairie Amphitheatre, fans will be thrilled with an exciting line-up that offers a fun-filled musical summer experience for the whole family.