This award-winning non-profit arts festival is the largest free live music event in Ohio, and it is all run with the help of dedicated volunteers and support from the community. The Black Swamp Arts Festival is all about connecting art with the community to promote involvement and create opportunities and programming that celebrates the arts in all forms. Listen to original music and find unique artwork as well. This festival will showcase two impressive art shows, the Juried Art Show and Wood County Invitational. Here you can experience the best artists from all around, in one single place. Visit with the artists and watch them as they work.

One popular event not to miss is the annual Chalk Walk. Take a stroll down the road to see several vibrant displays all covering the street. All of the chalk designs are done by high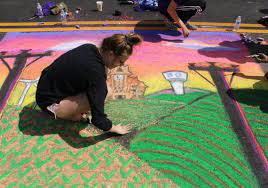 schoolers enrolled in art programs. To stay true to their mission of promoting the arts, Black Swamp awards the winners of this competition with funds to continue supporting their high school's art program. After checking out the chalk masterpieces, make sure to stop by the Youth Arts area designed specifically for the young artists in your life. This multi-sensory activity area is the perfect way to get them involved in creating their own art pieces. To ensure that you do not go home empty-handed after all the activities, you need to check out several of the artist booths. With 112 booths at this year's festival, you're guaranteed to find something that catches your eye. Watch the art be created, get to know the artist's journey, and then buy your favorite piece to help support their business even more!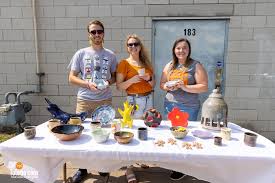 Add delicious food to your fun day and all will be complete.. With three different stages, all genres of music, national and international acts, it is sure to get anyone in the mood to dance and make great memories. There will be a family-friendly stage for members of all ages, as well as a community stage that hosts intimate sessions with local musicians. This festival will also be home to an event called Beats on the Street. This is a competition for vocal ensemble groups of three to ten members attempting to win funding for their school's music department. Then don't forget to pair this original music with some tasty snacks and refreshing drinks to boost the experience even more. Grab a slice of pizza or some ice cream to satisfy that hunger, then stop by the Beer Garden for a cold refreshment. The Garden is open for all ages, but for those of legal drinking age, enjoy a lineup of different beers, beverages, and wine. Saturday afternoon will also have the Art of Beer event where adults can sample craft beer from outstanding breweries in the area. This whole event would not be complete without some festival swag. At the merchandise tent, you will find things like shirts, hoodies, tote bags, stained glass, and so much more. Grab a shirt with the festival logo or buy an annual glassware item to keep supporting the Black Swamp Arts Festival even from home.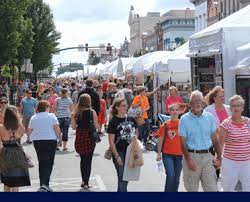 Not only is this festival a fun time, it also is for a good cause. The whole purpose is to provide recognition to outstanding artists and increase awareness of the arts for the community and the future. One way that Black Swamp does this is through the annual scholarships for students majoring in performing or visual arts. The event provides many opportunities for these winners to be recognized for their abilities. At the heart of the Black Swamp Arts Festival is the desire to offer exposure for artists in the area and help them increase their fan base. These three days are filled with fun, laughter, great food, and unique artwork. It will be one weekend you will never forget.
Three days of free concerts on three stages, free Youth Arts activities, hundreds of art vendors and two juried art shows. This is an unforgettable weekend that you won't want to miss! For the complete schedule go to: http://www.blackswampfest.org/
*Art Closes at 6pm