By Kathy Condon
InsiderGuide.com
Vancouver is Making Its Mark on the Northwest. Vancouver was my "Home" for 26 years. I worked on major art projects, served on various boards, and proudly represented the city when it was officially named "An All American City" about 15 years ago. Thus, you can see this writer is a little bit biased about the attributes of this city. However, a return this summer after five years found me in awe. It is now no longer considered a town that is living in the shadows of Portland, Oregon.
Development of the
    Vancouver Waterfront
Vancouver was named by explorer Captain George Vancouver of the Royal British Navy, who navigated the area up the Columbia River from the Pacific Ocean. This city became an important port for the area known for fur trading; the riverbanks were lined with ships waiting to transport the pelts worldwide.
Today, shipping still serves as an essential part of Vancouver's economy. Noticing the area's blight, citizens came together to develop a plan to repurpose some of the land no longer utilized by the Port of Vancouver.
Today, the Vancouver Waterfront has been revitalized. It is an area where hotels, restaurants, wine-tasting rooms, shops, and trails welcome residents and visitors to the river's edge to spend time with their friends and families. If you are looking for gifts, stop at PopLocal, where you will find various items made in the Northwest.
Fort Vancouver History
    is Being Honored
In 1825, Hudson Bay, a London-based company, made its presence known by constructing the first buildings at Fort Vancouver. Their fur trading empire grew, and the Fort became their base operation for  the Northwest.
Because of archeological digs, the precise locations of the various buildings within the Fort have been located. Using plans of similar buildings of that era, the National Park Service is rebuilding them. The Fur Store displays fur pelts ready for shipment to Europe, for they were considered to be of superior quality to make men's top hats. By the way, no animal was harmed, for all the pelts are from road kills.
Now numerous educational tours and special evenings are held within the walls of the Fort. One of the more popular ones is the Lantern Tour, led by a park Ranger who shares stories while guiding you through the Fort with stars twinkling above you.
Pro Tip: Educational tours are suitable for all members of the family. There is an admission of $10 per person, under 15 are free. Check their calendar for tour times and fees.
Officer's Row
    Enjoy a Fall Day
About 18 years ago, the City of Vancouver took over 21 buildings that formerly housed the Army's officers in the area known as Vancouver Barracks—now called Officers Row. Ulysses S. Grant and George Marshall were some of the more well-known personalities who lived in the houses lining Fort
Vancouver's Parade Grounds. – These magnificent Queen Ann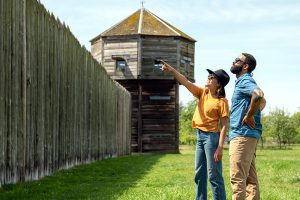 architectural-style homes are fully restored and serve as residential homes and offices. The grand dame of the buildings, the Marshall House is the venue that has witnessed many weddings, cultural exchanges, and retreats.
Put on your walking shoes and breathe in the fresh northwest air while you walk past the homes and giant elm trees lining the street. At the West end, cross over to the parade grounds, and find your way to the Fort Vancouver gift shop. Not only will you find unique gifts, but you will also get a sense of what a general store looked like when trade flourished in the area.
Meet Locals in Downtown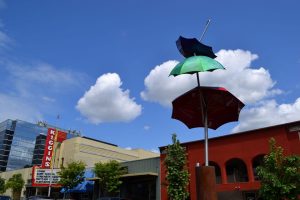 After parking your car and starting your walk along Main Street, you will quickly notice that you do not see national brand name stores, for this city prides itself in support of small businesses. Thus, on any given day, you can walk into any store and most likely meet the owner and manager of these unique shops and restaurants.
If you want to step back in time, you will want to catch an event or movie at the Kiggins Theatre, built in 1936 in the Art Deco style. This single-screen theatre has been restored and has a stage used for important community gatherings.
Oh, one more thing, ask anyone where to find Divine Consignment. All profit goes to local non-profits.
This store is so great to browse, with a variety of small and large items for the décor of any home or office. Yes, this is a shopping must-stop. Also, check out the art galleries. Vancouver is known for launching many artists' careers.
Uptown Vancouver Eclectic
    of Mix Businesses
Originally known as the area to come if you are interested in antiques, it now attracts people with various interests. Brewpubs, spiritual shops, restaurants, and events, such as car shows, attract people to this revitalized area. There is no question you can find an unusual gift for someone or a unique souvenir to represent your visit to the Northwest.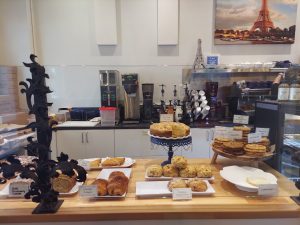 I was looking for a place to meet a friend for breakfast, and three times the same place, Bleu Door Bakery was recommended, so naturally, I had to check it out. Walking past the pastry-line display cabinets already had me getting hungrier. Thankfully, we beat the morning crowd and found a table.
Now I understood the appeal. The décor was fresh and upbeat, while the menu had various items made from scratch and fresh farm produce. The breakfast conversation was fabulous, and the food was delectable. What more can one ask?
New Hotels on the
    Vancouver Waterfront
One of the investors in the hotel AC Hotel by Marriott Vancouver Waterfront turned out to be one of my Rotarian colleagues when I lived in Vancouver. Thus, I was even more agreeable to coming to stay and review this hotel, which had not even officially had its Grand Opening. Its first visitors arrived in June 2022; I was there the last week of August.
It is at the foot of Highway I5 bridge going to Portland, Oregon. Beside it is the second hotel on the Waterfront, called Hotel Indigo, which is slated to open on November 15. Both hotels are high-rises and are gearing themselves to host conferences.
Walking in, I smiled, for the hotel lobby area took full advantage of its location, with all the glass windows perched on the North bank of the Columbia River. There was an air of excitement among the staff, who were thrilled to be part of a new hotel opening, and frankly, let's face it, the location for your daily work cannot be beaten.
Delighted they had their own parking garage, for finding parking on the Waterfront is one of the main complaints I hear from locals. I was introduced to Tug, the resident robot who will deliver anything I want to my room when directed by the scan in my room.
My room can best be described as casual luxury. Spacious with an outstanding Columbia River view and the perfect location for observing the sunset over the distant railroad bridge. The linens were superb, and the shower was gigantic with the latest accouchements to make it pure joy to take a shower.
Yes, it was a terrific visit and wonderful seeing old friends. However, what was even more interesting to me was seeinghow, thankfully, Vancouver, Washington, continues to embrace its heritage. One gets the sense that it continues to dig deep and understand that it is crucial to record its history while recognizing that it has a role to play in improving the environment along the Columbia River.
I am smiling, for I am pretty sure Vancouver, Washington, has reached the point where it will no longer have to say Vancouver, Washington, to differentiate itself from Vancouver, BC.