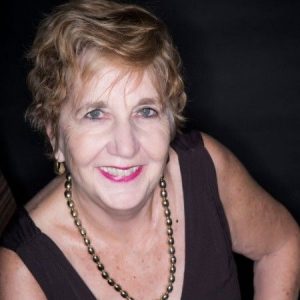 By Kathy Condon
The Flower Fields are just a short drive from the beach and attract people from all over the world. This attraction is truly a family affair, for there are activities for every member of the family.
History of the Flower Fields
Luther Gage, an early settler and horticulturist, bought land in the Carlsbad area. He planted seeds that originated on the Asian peninsula, called ranunculus, and they thrived in the fresh ocean air.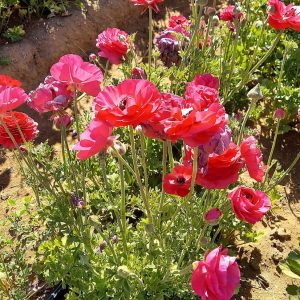 Adjacent to his land, Frank Frazee had a vegetable farm. Soon he started planting ranunculus and, in 1965, expanded his farm with the acquisition of land from the Ecke family, who were cultivating modern-day poinsettia. He relocated his ranunculus fields to this property and brought in his son Edwin Frazee to help him with ideas, for people were coming faster than one person could handle.
The ranunculus fields were overseen by Edwin, who brought in Mellano and Company, a renowned flower-growing company, to handle the flower fields. Meanwhile, Edwin saw the potential for tourism through the fields and took over the day-to-day operations.
What Should I Bring With Me to Explore the Fields
There is little shade, so wearing a hat, sunglasses, and filled water bottles would be good. The key is to take your time to soak in the beauty of these very special places where nature shows itself off to us for two and a half months.
Walking in The Flower Fields              
Walking through the fields on the well-curated paths is truly a relaxing, lovely experience. Planted in rows of colors, the rainbow effect of the brilliantly colored blooms can be seen as you gaze up the hillside. If you don't want to walk, a wagon pulled by a tractor will make strategic stops so you can get up close and personal with the flowers.
If you want to get Instagram shots, you will certainly not be disappointed. There are benches you can sit on and be surrounded by flowers.
Activities in The Flower Fields
Sweet Pea Maze
I found out you don't need a corn maze to get lost if you have a sweet pea maze. Who would have thought plants waist high could still have you puzzled to find your way through the grid, which the Manager delights in redesigning each year?
Music in the Gazebo
If you need to rest or would like to listen to music, you will appreciate this covered area. Local musicians show off their talents while your surroundings are alive with color from the ranunculus flowers.
Greenhouses Display Orchids
Greenhouses still house poinsettias, but now their space is being taken over by exotic orchids. With a General Manager who has a background in orchids, you can imagine the variety that now exists and continues to grow.
Education Huts
Temporary buildings have been set up. You can eavesdrop on classes about plants and environmental issues taught to the hundreds of schoolchildren bussed in each year.
Santa's Village
What is a flower garden without a Santa Village? Well, it may be a bit of a stretch, but when owners heard a miniature Santa village was about to be destroyed, arrangements were made to have it moved to the grounds. Walking by, you can hear the laughter as children explore the buildings under the brilliant west coast sun.
Explore Under the Arches 
Each year, Master Gardeners are assigned an area where their creativity can be tested to the max. Here, they plan, design, and plant flowers that transform the area into one reminiscent of an Alice Wonderland scene.
Snack Time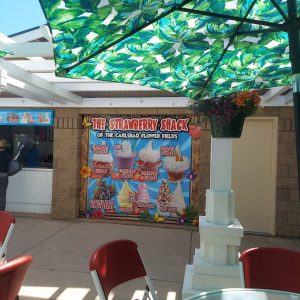 There are several options to help care for the hunger bug. As a lover of strawberries, it was impossible for me to walk past the Strawberry Shack, serving fresh strawberry shortcakes, pile high with real whip cream. By the way, this is strawberry country, so make sure you purchase some to take home with you.
Rather have pizza? Food trucks are brought in, and I could have chosen from a variety of pizza slices. It didn't take me long to spy the truck, shaped like a lemon serving freshly made lemonade. So good after walking in the sun in the open fields.
Armstrong Garden Center
In 1999, the retail operation of The Flower Fields was turned over to the Armstrong organization so the family could focus more on the land's flowers, olive trees, the sunflower test field, and the coffee plants.
Now an expansive garden center can be reached without going into the fields. If you are looking for a rare plant, there is an excellent chance you might find it here, or they will seek it out for you.
The aisles are full of gift ideas, a variety of flowerpots, books, and The Flower Fields' colorful memorabilia. And yes, you can buy bouquets of ranunculus flowers, tightly budded so they can easily be transported to your home.
As I walked to my car, the words of General Manager Fred Clarke came to life for me. He said, "You cannot be around flowers without them elevating your mood." I looked down at the two-dozen red and white ranunculus flowers bundled in my arms, smiled, and understood his words' wisdom.
Spectacular Flower Fields Blooming in Carlsbad California
If you find yourself on the United States West Coast between now and Mother's Day 2023, I would like to suggest you build in a half day to view and frolic in a 55-acre field of blooming ranunculus flowers. Their brilliant color blooms dot the hillside, which you can see from a distance.